Arms Trade at Syria's Afrin: Source of Livelihood Awaits Legalization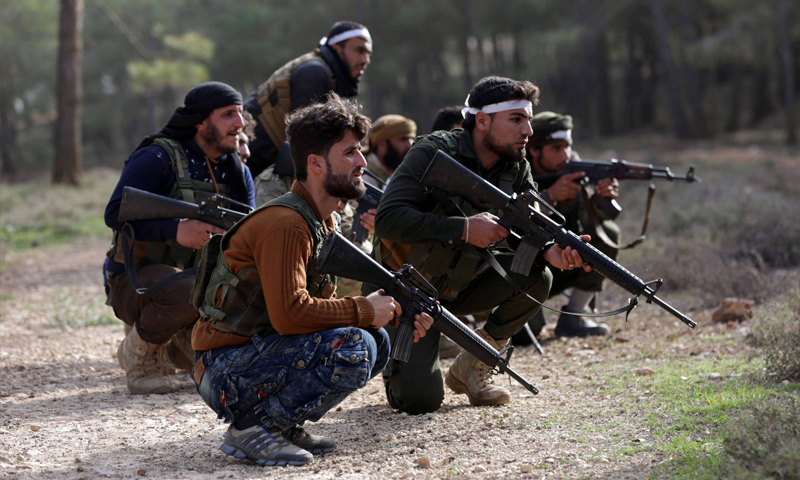 Roaming Afrin's streets, northern rural Aleppo, eyes would be caught by the spreading shops, not of clothes or home appliances, but ones selling arms.
"Abu Yaqoub," arms dealer of limited activity, as he owns neither a shop nor a massive amount of goods, informed Enab Baladi of the Afrin City's arms market: "This type of trade has become familiar in a society living under a state of war. Children, before grownups, know the different types of arms, capable of distinguishing between their sounds and munition. And there might not be a person in the liberated areas who have not buy or sell a weapon of some sort."
After the Turkey-backed "Free Army" factions' controlled Afrin city, March 2018, the local market received "a new commodity," accessible to all; "arms" with all their supplements, military outfits and accessories.
Arms Trade, a "Source of Livelihood" Bettering Fighters' Income
About some of the former fighters' choice of this trade, "Abu Khatab," as he refers to himself, a former militant of one of the factions that participated in controlling the city and an owner of an arms shop at one of the city's main streets, said: "Being a fighter for many years, I acquired an excellent experience in types of arms, usage and maintenance; and, after leaving my former faction due to low income, I chose this trade. It is simple, generates good income and does not require the effort that other professions demand."
This trade is not limited to large shops, for there are small dealers, practicing int it, compatible with the sources available to them.
"There is a massive number of arms shops, but there is also many small dealers, like me, who are trying to make a living through this trade. Arms are a demanded commodity in areas witnessing battles or confrontations, regardless of the sides to the fighting. Based on my experience as a 'Free Army' troop, I started this work to generate additional income due to poor salaries given to militants," "Abu Yaqoub" said.
The fighters under the "National Army" get a monthly salary of about $300, a sum regulated by Turkey, after it restructured the factions in rural Aleppo under a single committee of chiefs of staff, in coordination with the Syrian Interim Government.
"Abu Yaqoub" explained that small dealers, like himself, depend on selling and buying arms for personal usage, "guns" in particular, and they are always in search of proper weapons for prices less than the market's to sell them to other people after adding the profit, pointing out that the majority of the customers are friends and relatives; thus, he knows "from where the weapon comes and where it goes," as he put it.
Rampant Insecurity and the Chaos of Arms Trade
Since the "Free Army" factions came into control, a state of utter chaos ruled over the area, though this chaos might not necessarily be linked to the proliferation of arms shops. However, the presence of the shops makes it easy for the people to get any weapon they need, regardless of their affiliations.
In a late step, the "Free Army" factions have on November 18, launched security campaigns, targeting "corrupt groups," connected with the kidnappings since their first days of control over the city.
"At my shop, we sell and buy all types of personal, light and even medium weapons, which are often second hand, in addition to haunting guns, munition, clothes, kits and all that a fighter needs," "Abu Khatab" said.
About his customers, he added: "Most of my customers are militants who belong to northern Syria's various factions. They often buy arms and supplements for personal possession, separate from their factions, or when they get a weapon from a certain place or during a battle, we buy it from them at the market's price, and this is one of their income sources."
About the potential that a weapon might reach a wrong person, "Abu Khatab" said: "Every shop is linked to a specific set of customers, we are familiar with. We trust that they are connected to a certain faction, which keeps these weapons under control. In addition to this, upon buying a weapon, we do our best to know the weapon's source, for, after all, this is a source of livelihood; we cannot make a living through dirty money or eat food that is soaked in blood."
Efforts Seeking to Legalize Arms Trade
"We noticed the massive proliferation of arms shops at the city, and due to the recency of the council's establishment and the chaos that followed the liberation process, these shops continued without regulation," Mohammad al-Shaik, deputy director of the Afrin City's Local Council, told Enab Baladi.
He added: "These shops are opening without a license and are not censored currently. But the regulation of this trade and controlling it is one of the issues proposed to discussion and being studied."
The official attributed the delay in passing a law for the regulation of possessing and trading in weapons, like what is happening in the "Euphrates Shield" areas, to the concerned entities being busy in addressing issues related to providing the city with services and its infrastructure, water networks, roads and sanitation.
What about the Prices?
Concerning this, dealer "Abu Yaqoub" said that following the control over the city of Afrin and the reopening of the road between Idlib and northern rural Aleppo, the arms' prices collapsed, for the price of the Russian military rifle, Kalashnikov, starts at $150 and might reach $2000, based on quality, model and the country of manufacture, and it is one of the most sold and bought weapons.  
As for its munition, a single bullet is sold for 50 to 100 Syrian pounds, also according to its type and caliber. A dollar is the equivalent to about 500 Syrian pounds according to what the specialized "Lira Today," Syrian Pound Toady, website has published on December 8.
As for guns, according to the dealer, they preserved their prices, which start at $200, increasing to reach $2500, based on the gun's type, the country of manufacture and the bullet's quality.  Most of the arms in the market are Russian or American, which have the lowest prices. There are guns manufactured in other countries, but they are substandard, the munition of which is sold at a price starting at 200 Syrian pounds according to caliber and the country of origin.
Bombs are also being sold, with a price starting at $30, in addition to PKC machine guns, which start at $600, while the kits are sold at a price of $15.  
These prices vary according to demand, the seller and buyer's needs, for there is not a fixed price for specific weapons, according to the dealers that Enab Baladi contacted.
if you think the article contain wrong information or you have additional details Send Correction