"Amal" Specialized Hospital, the First in Ghandoura Town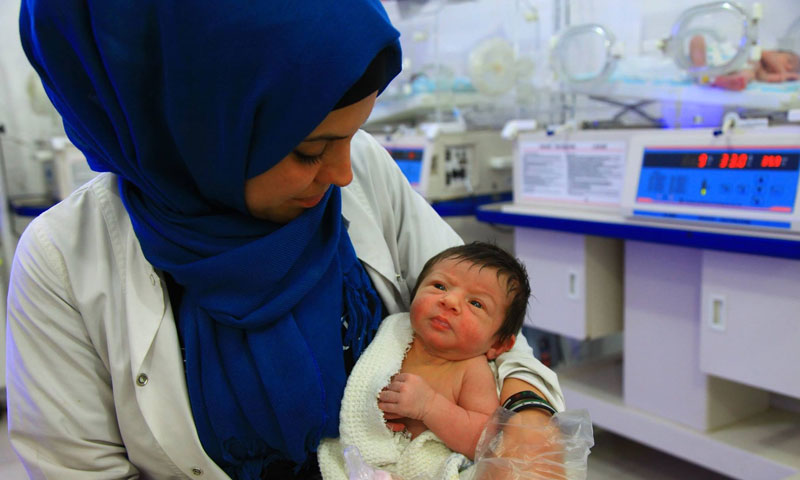 Every month, more than nine thousand patients, of whom 4500 are children, visit the "Amal" Hospital, hope, specialized in gynaecology and paediatrics.
The patients, based in Ghandoura town, eastern rural Aleppo, before the foundation of "Amal" Hospital, were deprived of medical services in their area, they were forced to travel a distance of about 30 KM to be provided with curative services by Jarabulus area's hospitals.
The Independent Doctors Association (IDA) equipped the "Amal" Hospital, as to offer free of charge services to the area's people and those who sought refuge in it, in addition to the nearby camps, which proliferate in the area and lack medical services since the factions of the "Euphrates Shield" kicked the "Islamic State" (ISIS) from the area in September, 2016.
Riyad Najar, the hospital's administrative director, told Enab Baladi that "Amal" Specialized Hospital is a destination for people from Ghandoura town and its surrounding; about 9500 patients seek services of all specialties: incubators, the laboratory, healthcare, malnutrition, emergency relief, birth department and external clinics, which cover gynaecology, paediatrics and internal medicine. All these services are provided for free.
At the same time, the hospital's staffs are under a massive pressure for the number of the patients is large, as doctor Fa'ez al-Jasim described the situation to Enab Baladi.
He added that the medical services provided to people are less than the demand, though the staff is working beyond its capacity, for the people are hit by many diseases due to the missing healthcare needed for children, particularly in winter, as the camps are short on heating means and sufficient nutrition, which increases the number of patients and the severity of their illnesses.
he said: "Unfortunately, we are suffering from the war remnants" in general, in addition to the proliferating landmines, left by the "Islamic State," which usually cause severe injuries, mutilations and raptures. "The dilemma we are facing is that surgeries are not conducted here, we only offer first aid," after which the patient is sent to Turkey or the Turkish hospitals in other areas in northern rural Aleppo.
About the Incubator Department, the head of the Nursing Department, said that this department is one of the key units in the hospital as it serves a massive number of children, for all the newborns are sent to the department to undergoes checks and to be taken care of, pointing out that this department has spared many efforts and much of the time that would have threatened the life of newborns, who would have been sent to another hospital.
The department have also helped the families overcome the need to pay large sums of money required by private healthcare centers. At least, they are spared paying the costs of going to different hospitals after birth.
if you think the article contain wrong information or you have additional details Send Correction