Against the Law, Syrian Women Victimized by "Sheikh Marriages" in Turkey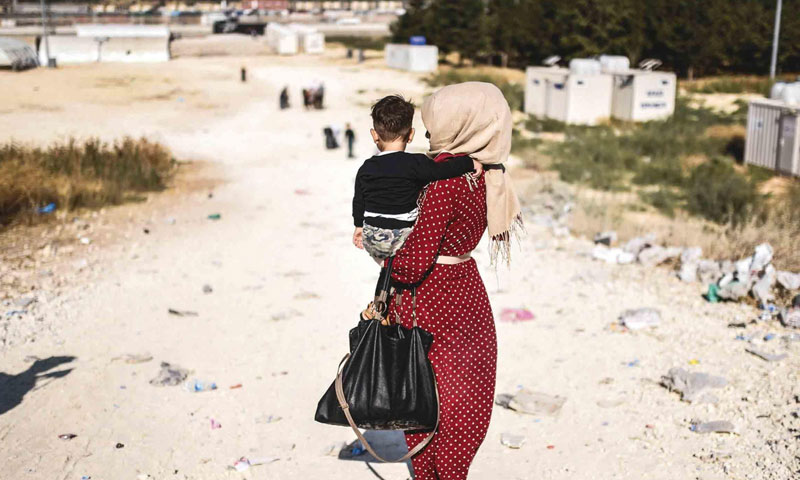 Fayza al-Kadrou – Practice Training Program
In the presence of a ma'thoun, a marital clerk, Fatima, a pseudonym, and her husband tied the knot, after she escaped her country leaving war and siege behind, only to face a different war in Turkey.
"I am 26 years old. I came from Aleppo to Turkey and worked in Mersin, southern Turkey, for a while, after which I met my Turkish husband, with whom I stayed for almost two and half years," Fatima said, refusing to reveal her true name for social reasons.
However, Fatima's marriage, the contract of which was provided by a sheikh, ended with divorce due to several problems between her and her husband, the center of which was the husband's refusal to commit to a marriage of the normal shape.
Fatima is not alone in this, for several other Syrian women suffer the consequences of unlawful marriage in Turkey, once they get married to already married Turkish men.
Though official statistics of these cases do not exist, a social assistant and both Syrian and Turkish lawyers confirmed to Enab Baladi that they are widespread.
Unhappy Endings
Noura Nahas, social assistant, believes that Syrian women's marrying Turkish men under "sheikh provided contracts" is a proliferating phenomenon in Turkey.
In an interview with Enab Baladi, she said that the major reason to this situation is "expediency, for Syrian women are living under different conditions. They are either divorcees, widows or refugees, so they approve to get married without many material conditions, if compared to the Turkish wife, who never accepts to give up on anything."
"Thus, the Turkish husband feels that everything is simple, and even if a divorce takes place, it would happen with the least loss possible," she added.
However, Fatima refused to give up on her right into giving birth despite the pressure her husband applied, as she confirmed to Enab Baladi, stressing that her Turkish husband disapproved the idea of having children with her a year into marriage, which ended in divorce.
The social assistant, Noura Nahas, described the majority of cases where Syrian women marry Turkish men as "failures," due to difference in environment, traditions and customs, in addition to the mindset and the language, considered the key obstacle between them.
She explained that there is something related to personality differences as well, for the Syrian woman considers taking care of her husband and children a life priority, thus favored by Turkish men. They also accept that a man is the one responsible for the household, while Turkish women refuse this, in defense of their personalities.
According to 2016 census, Syrian women marriage to Turkish men constitute about 11.7% of the total of marriage ratios in Turkey, which makes Syrian women at the top of the list of foreign women preferred for marriage in Turkey, according to statistics published by the Turkish Statistical Institute last year.
Under Pressure of Economic Situation
Hiba, Syrian refugee based in Turkey, married an already married Turkish man, without a legal contract.
Hiba unveiled the details of her marriage to Enab Baladi: "I was in Idlib, then I moved with my family to the city of Kilis, southern Turkey. After this, I was introduced to my husband by a woman relative, who said that the groom is a person of morals, religion and with a lot of money.  According to this, the agreement ensued."
The lure of money and urge to secure a decent life were the main trigger and enough justification for Hiba's, a pseudonym chosen by her, as she cannot reveal her true name for social reasons, marriage out of the wake of the Turkish law, which prohibits polygamy.
Hiba, 22 years old, told Enab Baladi that her husband came to her home for an hour or two every day. This ended the relationship between them.
"Divorce took place at the fifth month of pregnancy and with the help of one of my husband's relatives, I managed to give birth to my daughter at a hospital," she added.
In an interview with Enab Baladi, Anass Zinedine, Turkish legal adviser of a Palestinian origin, hinted that the material aspect plays a key role in Syrian women being given into marriage to Turkish men under a sheikh contract.
He pointed to "the low costs of marrying a Syrian woman in comparison to a Turkish woman due to the difficult economic situation that the majority of Syrian families suffer from, in addition to the Syrian woman's feeling that marrying a Turkish man would provide her with protection and stability."
"This phenomenon has caused several deep social problems, of which is Turkish wives' choosing to have divorce with their men who marry Syrian women out of the wake of the law," he added.
Syrians and the Turkish Law of Marriage
Hiba's suffering did not end at divorce, for her dilemma inflated when she knew that there are Turkish laws that prevent the registration of a child to a couple married through a contract that is not registered at the civil departments, and that divorce, in this case, would deprive her of all her rights.
Ghazwan Qrunful, member of the "Free Syrian Lawyers Associations," informed Enab Baladi of the legal context of Syrian women's marriage to Turkish men and the alternatives utilized to circumvent the law.
Marriage has two ways; either the legal manner which preserve the woman's rights or a "Sheikh marriage," legally unacknowledged in Turkey. "In this case, the Syrian woman is not considered a second wife. She is, rather, a mistress from the law's perspective. Accordingly, no legal consequences arise from this marriage. As for the wife, she has no right because, from the view of the law, she is not a wife, and the children are not traced back to her but to the father."
Qurnful pointed out to the ignorance of the Syrian women who marry Turkish men, as they do not know that the Turkish law prohibits polygamy, adding that "they do not recognize this as a violation of the Turkish law and the consequences and penalties that arise in case a public suit was filed against them as a husband and a wife."
He warned that in case a sheikh marriage takes place the couple and the sheikh who issued the contract will be sentenced to prison for a duration of three to six months. If there are children, the Syrian women is not bestowed the guardianship, which would be allocated to the father.
Due to this, Hiba, today, is facing the danger of being deprived of her child, particularly after she managed to register him under the Turkish father's name, telling Enab Baladi that the hospital contacted the father as a prerequisite to give the child a birth certificate.
if you think the article contain wrong information or you have additional details Send Correction