"Think of Others": Youth Campaign for Collecting Clothes in Saraqib City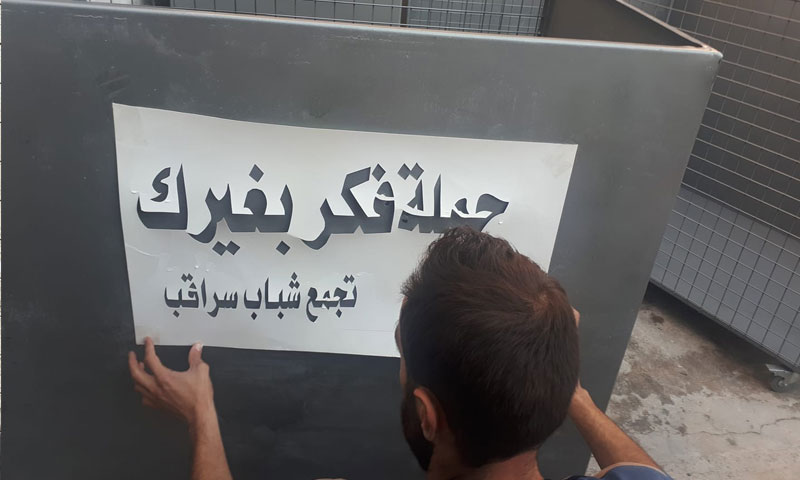 A group of young people in the city of Saraqib, rural Idlib, has launched a humanitarian campaign under the title "Think of Others," as to help donor people place the extra clothes they have in boxes, so whoever is in need would take them from the boxes for free.  
The area's people appreciated the campaign as it seeks to support people in need, taking into consideration the increasing prices of clothes in the area.
Here it is important to mention that a sweater's price is three to six thousand Syrian pounds, the pants' is between four and six thousand pounds, while a jacket would cost the buyer a some ranging between seven and 18 thousand, depending on its type.
The campaign's timing corresponded to the beginning of winter, in the shadow of the rising prices of fuel, for while a gas cylinder is being sold for 4600 Syrian pounds,  the price of the European Mazut barrel in Idlib might reach the mark of 75500 Syrian pounds, according to the prices assigned by the "Watad Petroleum" company, specialized with importing fuel.
The campaign was launched by the "Saraqib Youth" group, according to the Group's Director, Ahmad khatab, where five boxes will be spread in the city for the Group's members to put second hand clothes for the first time and people to donate whatever clothes they want in support of the people who cannot afford the market's prices.
The idea of collecting clothes is not new and is already done by developed countries, especially in Turkey, which keeps launching similar campaigns under different titles. For example, in 2016, the Humanitarian Relief Foundation (IHH) started a campaign called "Do Not Keep Them in the Closet, Warm Poor People with Them," where clothes are hanged in public places to be then distributed to people in need.
Khatab told Enab Baladi that the Group has launched this idea as a form of social cooperation and to enhance social bonds by feeling the pain of poorer people, adding that the boxes were made with the support of the British "Development Program," and shop owners were contacted to place the boxes in front of their shops, so they would protect them by keeping an eye on them during the day and taking them inside the shops at night.
Khatab pointed out that the idea was welcomed by the area's people and they interacted with it, stressing that on a tour by the Group's members to the places where the bxs are, they found new clothes being left there, while Ihab al-Bakour, one of the campaign's participants, hoped that they be able to reach the largest portion of people in need through the campaign, which aim to empower family bonds in the society.
if you think the article contain wrong information or you have additional details Send Correction