"Popular Mobilisation Forces" Begin Preparations for Military Operation Inside Syria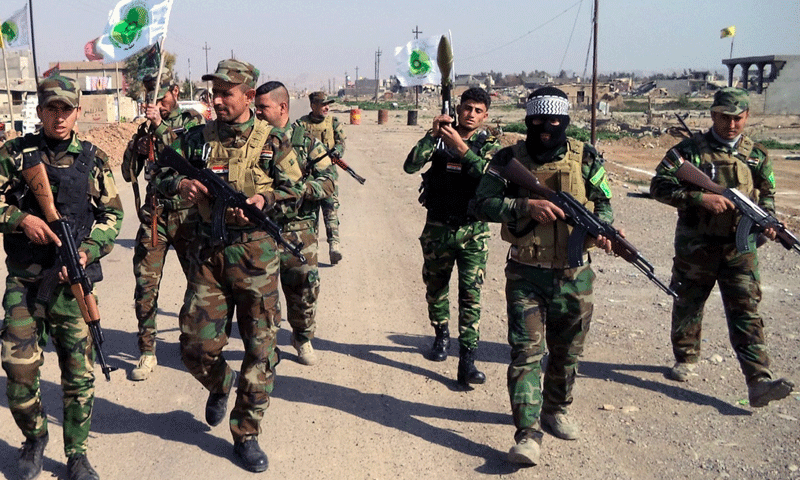 The Iraqi "Popular Mobilisation Forces" have begun preparations for a military operation against "ISIS" inside Syria, which is to be focused on the Hajin area east of the Euphrates river.
The Iraqi "Malouma" website cited a "PMF" leader, Hashem al-Musawi, who said on Monday 5 November that "PMF" units were completely ready for an incursion into Syrian territory in order to carry out an anti-ISIS operation.
Al-Musawi added that the operation would be limited by an agreement reached between the Syrian government and Iraqi factions.
Al-Musawi said that "PMF brigades are ready to pursue ISIS groups to any location in order to completely eliminate them". He continued, saying that "the order for an incursion into Syria is limited, and based on discussions between the Iraqi commander Adel Abdel Mahdi and the Syrian government".
The "PMF" preparations for entering the Syrian campaign aim to counter "SDF" operations against ISIS east of the Euphrates river.
Over recent days "ISIS" has succeeded in gaining control over large parts of the Hajin area, reaching as far as Baghuz al-Fuqani village on the Syrian-Iraqi border.
The "PMF" recently announced a state of high alert along the border area in order to prevent any possible ISIS attack.
According to a statement on an official "PMF" website, "PMF" units were called to the border area to prevent any crisis or confrontation with "ISIS", particularly as the group is known for taking advantage of poor weather conditions. The statement claimed that the situation in the area "is currently under control".
The Hajin area is considered the last stronghold in which ISIS fighters are based east of the Euphrates.
According to al-Musawi, "The PMF have carried out many rocket strikes inside Syria during the current phase of the anti-ISIS campaign. These have targeted key ISIS positions and killed a number of their commanders".
The "PMF" was established in June 2014 on the basis of fatwas from Iraqi Shia clerical leaders. It comprises 67 factions, many of which are close to the Iranian government. Subsequently, the "PMF" were formally incorporated into the Iraqi Army.
Operating prominently as part of the PMU is the "Harakat al-Nujaba" faction, which has fought alongside Assad's forces against the Syrian opposition.
if you think the article contain wrong information or you have additional details Send Correction