Elias Nouman:  The Story of a Syrian Sculptor in the Artistic Sanctuary of Italy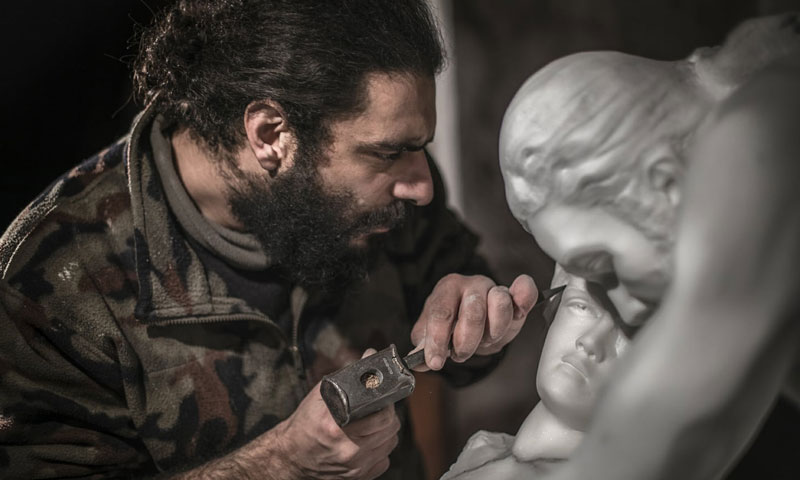 "Being a sculptor is not a profession; it is a life choice, for every day I work on a new project," this is how the sculptor Elias Nouman has described his art, the tools of which shape his life.
Elias Nouman is a Syrian sculptor from the town of Yabroud, rural Damascus, who choose the Italian city of Carrara to be his place of refuge, knowing that it is the destination of the world's sculptors and the capital of art during the Italian renaissance.
He graduated from Damascus University, the Fine Arts Faculty, the Department of "Sculpture". He traveled to Italy in 2003 and studied masters in the "Carrara" Fine Arts Academy.
Nouman carried the Syrian culture to his new residence, where he submitted a research paper titled: "A Journey of Sculpture between Damascus and Italy," where he addressed the history of this art starting from the Syrian civilization to Rome.
Nouman creates his pieces using a hammer and a chisel; modern machines do not interfere with the Italian marble he uses, for he believes that manual work reveals deep details and bestows the pieces a special touch and quality, inspired by none but the hands of the sculptor, according to what he told Enab Baladi.
He received many international awards, starting with the "Milan" Exhibition award, which centralized on the representation of women in art, in addition to the audience award, which he received in the International Sculpture Biennial of Resistencia, Chaco, Argentina, for the Arab (Syrian and Lebanese) community there decided to buy his sculpture from the municipality and send it to Beirut, Lebanon. The street where it is placed is called "Syria Street".
With his sculptures, Nouman addresses causes relating to human suffering, for these feeling, to him, are fixed and have not changed since the ancient of days.
He is also keen on representing the human body, which appears in the majority of his pieces, defining sculpture as "the game between masses, void, shadow, light and the idea."
The Syrian sculptor highlights the importance of knowing artists from different cultures and countries, saying that cultural bonding is one of arts' fundamentals, for each artist has his/her own separate style because art reflects the image of a certain era or country's culture.
Currently, Nouman enjoys creating his art in a modest workshop in the Italian city of "Carrara," which has been a sculpture workshop for 200 years. He believes that he is not the one to describe himself, but his sculptures.
if you think the article contain wrong information or you have additional details Send Correction