A Marathon for Persons with Disabilities in Maarrat al-Nu'man, Idlib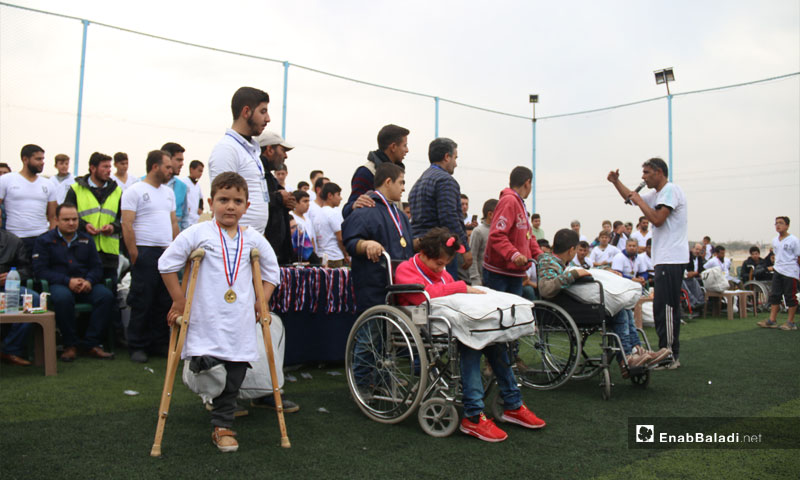 He is one of 30 other persons, who the war deprived of the ability to move; however, it failed to suppress their will to prove their power at talking to the external world through sports talents, which were brought together in a marathon in Maarrat al-Nu'man, Syria's Idlib governorate.
"The marathon was a good gesture, which gave us hope that we are not forgotten. We will show the world that despite the wheelchair, we can be effective in society," Ahmad Zibdiyeh says, who participated in the marathon organized by the "al-Ameen" office in Maarrat al-Nu'man on November 21, sponsored by the "Development" program.
In an interview with Enab Baladi, the Director of the "al-Ameen" office Amanah Hajj Suliman said that the marathon is part of the "Peace Olympics," which consists of various sport events targeting people with disabilities in Idlib governorate, under the auspice of the "Development" program and the "Football Union."
Hajj Suliman added that the marathon included two groups of people; one consisting of people with disabilities, where more than 30 persons participated in a 100-meter race, and participant Ibrahim al-Jark ranked first.
The second group included typical participants, who participated in a race launched from the Fruma checkpoint in Maarrat al-Nu'man to the al-Masbah Park, with the participation of a hundred athletes.
The Director of the "al-Ameen" office pointed out that members of the Free Police and the Syrian Civil Defense protected the marathon, held in the presence of a massive number of the area's people.
The humanitarian organizations, functioning in Idlib, pay a carful care to the people with disabilities and war wounded persons in the governorate through conducting sports events and the establishment of a body building club for them particularly, in addition to a football club, consisting of 32 players, the majority of whom are amputees, who participated in a mock match in November 2017.
These events and activities aim to integrate the war wounded people in society and break the fear barrier, as well as send the world a message that these people can live their life normally just like any other person.
Figures about Amputees in Syria
The World Health Organization (WHO) estimates that more than three million Syrians suffer from disabilities and war-related injuries, calling for additional funding and care.
In a report published by the organization in December 2017, it stated that one and half a million Syrians developed disabilities due to the war and violence in Syria after 2011, at a rate of 30 cases every moth, pointing out that 86 of these are amputees, the third of whom are children.
The report attributed the increase in the numbers of the "war-wounded" people to the usage of new explosive weapons, focusing on barrel bombs and incendiary weapons which have been in use for the past seven years.
if you think the article contain wrong information or you have additional details Send Correction