A "House" for Languages Compensates Idlib's Students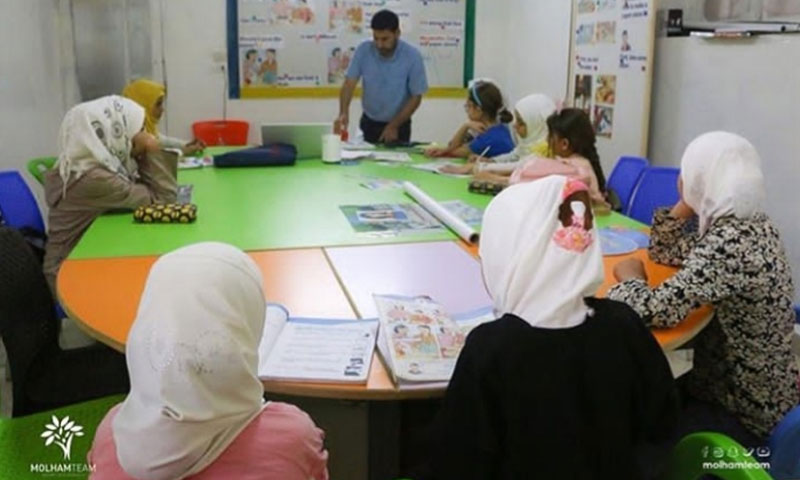 The "Molham Team" runs a language institute in the city of Idlib, aiming at compensating the students deprived of school and education, especially those based in camps and makeshift shelters.
The institute called "The Language House" was opened in the city of Idlib in October, ready to host students of both elementary and preparatory schools, offering them the curricula adopted at schools, but following a new teaching approach and for free.
The institute, with its novel idea, aims at all age stages, starting with English language, while hoping to provide more languages, on top of which is Turkish, in the future.
The Education Department Official of the institute Nouman Badran told Enab Baladi on Saturday, November 10, that the project's idea was triggered by the suffering of the students in Idlib and the weak education, especially the teaching of languages.
He added saying that the idea allows the students pursue their education in a manner compatible with the process of education.
The institute accommodates 160 students, divided into shifts. Badran attributed the small number so far to the attempt at creating model classes, while it is planned to receive more students upon the finalization of the current courses.
There are no conditions for the application to the "The Language House," for the students have only to undertake a placement test, to define the level they should follow.
Hashim Riyad, a student from the city of Idlib, believes that the institute has offered him and the city's students a big service, being the first and the only of its type in Northern Syria.
Riyad added: "We have an urgent need for learning languages other than Arabic within the curricula, which will guarantee building generations with linguistic and scientific expertise," pointing out to the high efficiency of both the institute and the staff.
Since it was launched a month ago, the "Molham" team was inspired by the idea of "bridging the gap and the lack that the city's students have developed due to the surrounding circumstances and to increase the desire to learn in them, hoping that they be a source of support for the country in the future, as the motto of "The Language House" says.
The city of Idlib suffers the deterioration of the education sector due to the long war's repercussions and the constant shelling of education facilities, in addition to the migration of the specialized staffs and the closing of many pubic and private centers in the shadow of the cuts of funding allocated to the civil society organizations and the local councils.
if you think the article contain wrong information or you have additional details Send Correction