The "Seeing Hearts": Football Activities for Blind People in Syria's Idlib City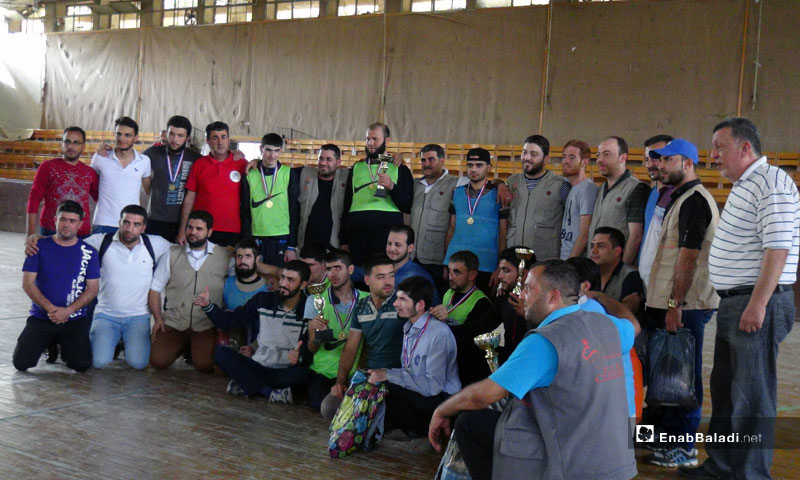 Over the course of three months, a group of young blind people received training on the International Goalball game, which is dedicated to blind and partially blind people, which ended with a final match involving 12 beneficiaries in the city of Idlib.
Yamen Bakrou, one of the blind players involved in the "Seeing Hearts" campaign, pointed out that for seven years Northern Syria has witnessed the absence of sports activities dedicated for blind persons. However, toady there is tendency towards a sports-based method, aiming at equipping persons with disabilities, while still ignoring blinded person.
Bakrou, a former player of the Syrian "Goalball" national team, who participated in several championships, added telling Enab Baladi that these activities contribute to raising the morale of the blind and helping them to engage in the community and lead their lives in a natural way, hoping that this idea will always be adopted in Northern Syria, which the opposition controls.
The "Shafaq" (Dawn) organization has launched the "Seeing Hearts" event three months ago in the city of Idlib, ending it with a match on Sunday, September 30, at the hall of the "My Social Space" Center.
The event included the training of 12 blind and partially blind people on the "Goalball" game, known as the "bell ball," by a special sports coach and under the supervision of assistant coaches, said Marwan Husaino, assistant coach and supervisor of the event.
Husaino added telling Enab Baladi that the supervising team has faced a variety of difficulties, on top of which was the blind players' inability to easily adapt to the game, pointing out that they mastered it after intensive trainings.
Husaino called on the specialized sports entities in Northern Syria to organize similar activities for people with disabilities and to focus on the "blind, being marginalized, hoping that the "Seeing Hearts" event be only the beginning.
What Is the "Goalball"?
The "Goalball" is a world-class sport and has a competitive tournament organized by the International Federation of Blind Persons Sports, when it became one of 1976th Toronto Olympic Games, under which Austria won a gold medal after defeating Germany.
The game requires that the players be blind or visually impaired. The match consists of two teams, each team includes three players and has the right to substitute players three times.
The ball with the bell is the most important tool of the "Goalball," in which players often rely on hearing, and the stadium is rectangular, divided into two parts by a middle line.
According to the rules of the game, goals are achieved when the ball reaches the end of the playground on either of both sides. The players are also blindfolded as to have an equal vision.
if you think the article contain wrong information or you have additional details Send Correction