Syria's Idlib: Popular Campaigns Combat Violations of Antiquities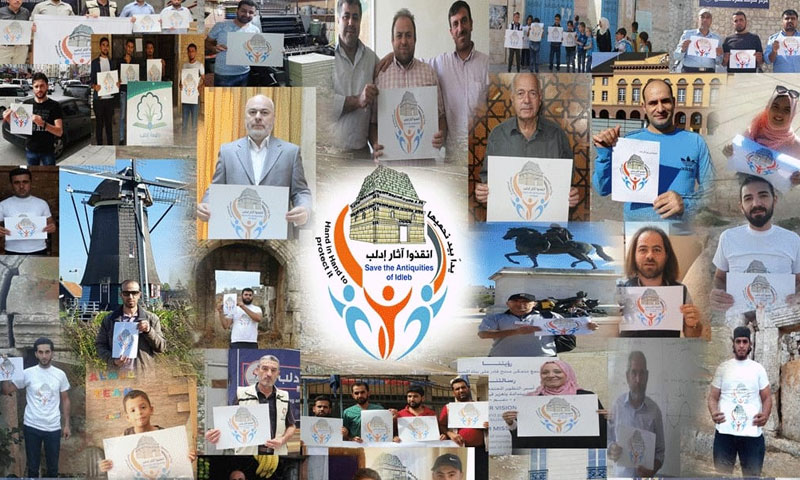 The "Idlib Antiquities Center" has launched an electronic popular campaign, calling the international community, local and international organizations to put an end to the violations of ruins and the humanitarian heritage in Idlib governorate.
The campaign, launched on the third and ended on the tenth of October, used "Save the Antiquities of Idlib" as a slogan, following many years through which the archaeological sites in the city suffered thefts, plunders and random excavations, in addition to the destruction that befall some parts of theses sites due to the military operations which targeted the area.
Popular Sit-Ins and "Avaaz"
In an interview with Enab Baladi, the Director of the Idlib Antiquities Directorate Ayman al-Nabo said that the campaign is a part of the events that the Directorate is conducting as to protect the cultural properties in Idlib, highlighting the necessity of activating the role of the international community and the specialized organizations as to handle their responsibilities towards this cultural heritage.
Al-Nabo has also called on the actor entities in Syria to network with these organizations, as to reach an advanced phase of protection and management.
About the campaign's activities, the Idlib Antiquities director said that they started with a meeting for the graduates of the Faculty of Archology, who communicated with the governorate's local councils as to organize awareness campaigns and to distribute introductory and awareness leaflets, as well as pasting them on the road signs.
On October 9, the city of Idlib has witnessed popular sit-ins, in which activists and medical staff members participated; they carried slogans condemning and warning against the loss or the sabotage of the governorate's antiquities.
The campaign corresponded to an electronic one, launched by activists through the "Avaaz" platform, specialized in civil community campaigns, as to show support for the initiative conducted by the "Idlib Antiquities Center," demanding signatures to fathom the echoes of the support shown to the campaign.
The "Save the Antiquities of Idlib" campaign's events were concluded with a conference about the protection of ruins, on Tuesday, October 9, at the hall of Idlib's Cultural Center, aiming to raise awareness about the campaign's objectives, with the participation of a group of personalities of all the governorate's social segments.
According to Ayman al-Nabo, other events are decided under the framework of Idlib's ruins' preservation, to take place after the discussion of the first campaign's results.
The antiquities of Idlib have suffered massive theft and looting operations, targeting the majority of the governorate's archaeological sites in the past three years, on top of which was the city's National Museum.
According to Ayman al-Nabo, Director of the Idlib Antiquities Directorate, Idlib incubates about 760 archaeological sites, saying that they date back to various eras, starting with the Ancient East (the millennium that ended prior to Christ's birth) and reaching the late Islamic eras.
Accordingly, the "Syrian Salvation Government," functioning in Idlib, has warned against the archaeological excavations at any of the governorate's sites, pointing out that violators "will be held accountable."
if you think the article contain wrong information or you have additional details Send Correction