Syrians in Turkey's Urfa Fear Ending up at Other Side of Border Line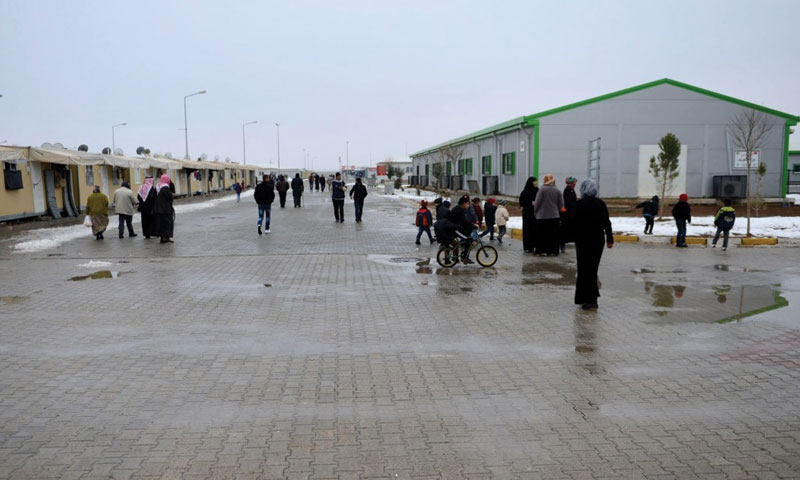 Several Syrian people, based in Turkey, have in the past a few months been subjected to deportation to the Syrian territories, described by some as "forced," despite having the temporary protection document (kimlik) and yet having relatives in Turkey. 
Some of the deported people believe that the decision was unrightfully passed, as Omar al-Hassan, 25 years young man, who lived in Turkey for four years, has said, expressing the state of "insecurity" that he has developed inside Syria, which "is so far witnessing a state of chaos and instability."
The Temporary Protection Law, passed by the Turkish government, provides for the prohibition of deporting the people which it covers to any area where they might suffer torture or hamulating penalties or to a place where their freedom or life might be at a risk due to race, religion or gender.
The Bitter Waiting
Samar al-Madhoun, 24 years, leaves the house with her two children in search of vegetables leftovers in the nearby market in the area of Haşimi in Şanlıurfa province, southern Turkey.
Samar says: "I try to collect the vegetable and fruits, left at the markets ground to feed my starving children." This woman depends on what "charitable people" offer her to manage life and run her house, in which she stays with two children, who are both younger than six, after the deportation of her husband. She describes her life as "difficult," as she hangs on, waiting for her husband's return.
There are no official statistics about the number of people deported from Turkey to Syria, while the Syrian mainstream is talking about hundreds of deportees.
"My children's screams barely stop, so are there questions about their father, absent for months now. And I do not know how to answer them," Samar added.
The Protection Law
The Turkish government did not clarify the deportation's reasons directly, at a time where top reasons include behavioral violations and some individual's repetition of acts against the law, such as group fighting and incitement among Syrians and Turks, similar to the commotion that took place in Urfa, as well as belonging to organizations classified as terrorist by Turkey, like the "Worker's Kurdish party," and its Syrian arm, the Kurdish "People's Protection Units," in addition to making a profession of vagrancy and fraud.
This leads to issuing a judiciary record against them and the deportation of Syrian young violetears to areas that "pose no threat to their lives," such as Idlib, Northern Syria, where they are transported to the Syrian side of the borders through the Bab al-Hawa crossing.
The State's temporary protection law allows it to send a way committers of atrocity, war and crimes against humanity, as well as crimes penalized with imprisonment in case they were committed in Turkey or the crimes addressed by the seventh part of the Turkish Criminal Law, in addition to actions that pose a threat to the general security and order in Turkey and those involved in weapon-related activities and have not ended them, as well as those who conduct, plan, entice or get involved in terrorist acts.
Constant Concern
Muhand al-Khalaf, 37 years old, lives in the Harem border town, away from his family; he tells Enab Baladi that "my family does not leave my mind at all; they are there alone without a provider, and I do not know what to do."
Muhand, three months after his deportation, still cannot understand what happened, for he was arrested at the Turkish city of Edirne and taken to the Foreigners Center at the Antakya Province, from which he was taken to Bab al-Hawa, where he was derived to the Syrian side, saying that he does not deserve this fate as he did not break the law in a manner that requires banishing and separating him from his family.
In Urfa, many Syrians are living in a constant state of fear about their fate, especially after the Turkish security was strengthened following the last commotion in the area.
Last week, the city of Urfa witnessed attacks against Syrian people's properties and even persons, in addition to a number of demonstrations against Syrian people of hundreds of Turks as a result of a fight between a Syrian and a Turkish family, which led to several Syrian and Turkish casualties.
if you think the article contain wrong information or you have additional details Send Correction