Source: Iran Evacuates "T-4" Airbase in Rural Homs in Interest of Russia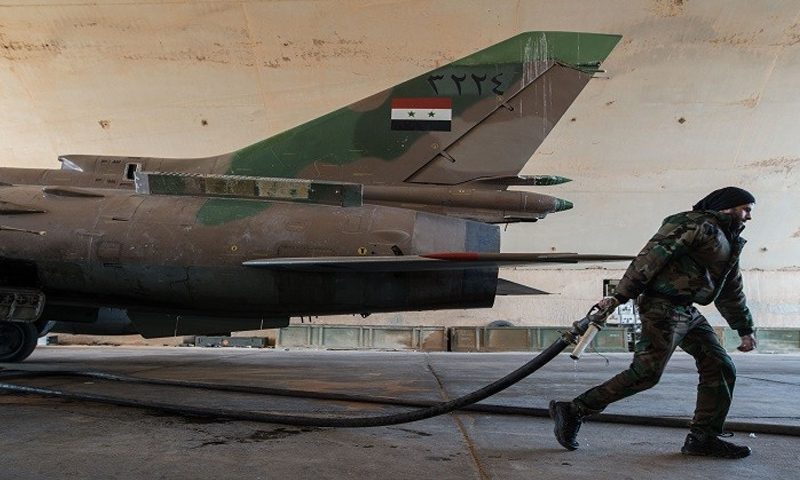 In the past two days, Iran has began evacuating the "T-4" military airbase in rural Homs in favor of the Russian forces, as an informed military source has told Enab Baladi.
The source, quoting one of Assad's forces officers, has today, Tuesday (October 2), said that the Russian forces have taken the military airbase to install the "S-300" air defense batteries, which it lately declared delivering to the Syrian regime.
The matter did not stop at the Iranian evacuation of the airbase, for, according to the source, the number of Syrian officers and troops has been downsized to a large extent.
The airbase is one of the key Iranian positions in Syria, which in the past a few months has been a target to both aerial and rocket attacks on the part of Israel and the United States.
The airbase contains developed air defense systems and short-frequency radars fixed on cars, in addition to military vehicles and dozens of modern tanks, including "T82."
According to military analysts, in the airbase, there are Russian, Iranian and North Korean experts, as well as foreign and Syrian regime-affiliated officers.
The airbase is classified as one of the principal airports in terms of fortifications, especially that it is located at the Iranian supplies line, which come from Iraq.
The talks about the Iranian evacuation of the airbase correspond to action on the part of the United States of America, undertaken to minimize the Iranian role in Syria and linking it to its stay in the country.
In a television speech on September 25, the Russian Minister of Defense Sergey Shoygu declared that, with an order from the Russian President Vladimir Putin, Russia will deliver the "S-300" missile system to Syria in two weeks.
While Sergey Lavrov, the Russian Minister of Foreign Affairs, confirmed that Moscow has already started delivering the aerial defense system to Syria.
The missile system was delivered following the downing of a Russian aircraft, "IL-20" type, in Syria as it was targeted mistakenly by the Syrian air defense, which was combating Israeli aircraft that targeted Lattakia.
if you think the article contain wrong information or you have additional details Send Correction