Russian Defence Ministry Discusses "Humanitarian Corridor" for Civilians in Idlib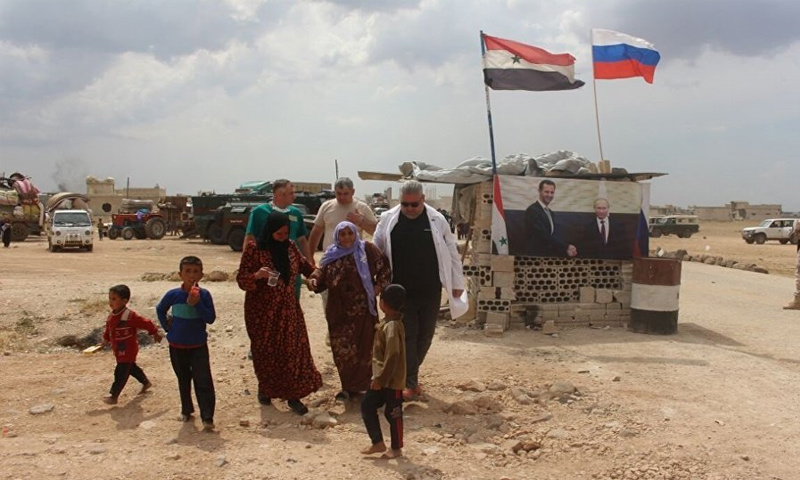 The Russian Defence Ministry spokesperson Maria Zakharova has said that her country is able to provide a "humanitarian" corridor in order to allow civilians to leave Syria's Idlib Governorate.
During a press conference held on Thursday 4 October, Zakharova did not clarify which of the governorate's border crossings would be involved in the humanitarian corridor. However, mention was made of the Abu al-Zuhour crossing in Idlib's east, which has been used by the Syrian regime as a means of evacuating civilians from rebel-held areas in the region.
Zakharova added that the exit of civilians wishing to leave opposition-held areas would be conducted under the supervision of the Russian and Syrian militaries.
The Syrian regime last week promoted the opening of the Abu al-Zuhour border crossing via its media channels. It described the crossing as being open to civilians "fleeing from militants" to areas under regime control.
Syrian and Russian official media have intensified their presence at the crossing, and have reported civilians returning from Hama, Aleppo, and Idlib governorates to villages and towns which have recently fallen once again under the control of the Syrian regime.
However, coordinators in northern Syria said that the number of civilians leaving those areas was much less than the number being claimed by pro-state media. Those leaving are said to include medical patients seeking treatment from hospitals in regime-held areas, as well as employees and retirees leaving to obtain salaries from government-run institutions.
Coordinators said that these patients would not have left had there been suitable medical treatment available for civilians in rebel-held areas, and employees and retirees would not have left had there been an alternative means of subsistence.
Enab Baladi's correspondent reports that the opening of the Abu al-Zuhour crossing is not a new development, as it has been opened for the past three months by Syrian and Russian forces for civilians east of al-Sakka town. These had left their home villages during that time due to the regime's military operations; the number of those returning to their homes is said to be very small, with most of these being from Idlib's rural east.
if you think the article contain wrong information or you have additional details Send Correction