Idlib: The Town of Darkush Hosts the First Pomegranate Festival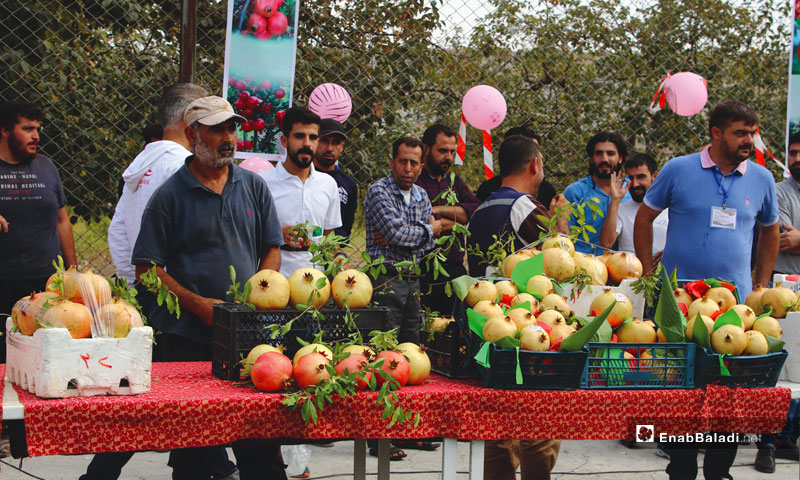 The local council of the Darkush town, western Idlib, has organized the first Pomegranate Festival in the town, with the participation of framers, people and representatives of the civil community's entities.
The festival, conducted at the Darkush town's pitch, on October 19, with the following Quranic verse as its slogan: "In the two Gardens there shall be fruits and date-palms and pomegranates."
The festival included many events, aiming at providing support to farmers and shedding a light on pomegranate, the fruit which the town of Darkush is famous for cultivating.
One of the farmers participating in the festival, Omar Houri told Enab Baladi that the festival has also included competitions to choose the best product, pointing out that the mechanisms of choosing differ according to the pomegranate's type.
He explained that the criterion for choosing the best pomegranate product of the "sour-sweet" type is that the fruit be of a large size, while the seed pulp having a clear color; as for the French pomegranates, the size does not matter, while the seed pulp must be of dark red.
The farmer said that the importance of organizing similar festivals in the future arises from the need to support farmers, "who are not getting their right in terms of prices," as he put it.
The festival ended with awarding the winner farmers, in the presence of a group of the Darkush town's people, representatives of the civil community, and members of the town's local council.
For his part, the Head of the Darkush Town's Local Council Samer Alwan said that the council observed the necessity for organizing a pomegranate festival because the farmers are in a dire need for such events, within the frame of organizing entertainment events to distance people and children from the war's atmosphere.
In an interview with Enab Baladi, Alwan added that the festival consisted of events, carnival intervals, plays presented by children and shows of how pomegranates are squashed, in coordination with several entities in the town, including the Youth Office and  the Darkush Coordination office, with the presence of more than 300 attendees.
The Darkush town is famous for cultivating different types of pomegranate, which are the sour-sweet, al-Asfori, French, Nab al-Jamal and the Dwarf Pomegranate. The cultivation of pomegranate was restricted to the fringes of the grooves, creating a fence, but with the admission of the French type, pomegranate trees could be planted in wide areas, for this type can be planted while only a short distance separates between the trees unlike the rest of the types.
if you think the article contain wrong information or you have additional details Send Correction