Idlib Governorate's Factions Complete Withdrawal of Heavy Weaponry from Buffer Zone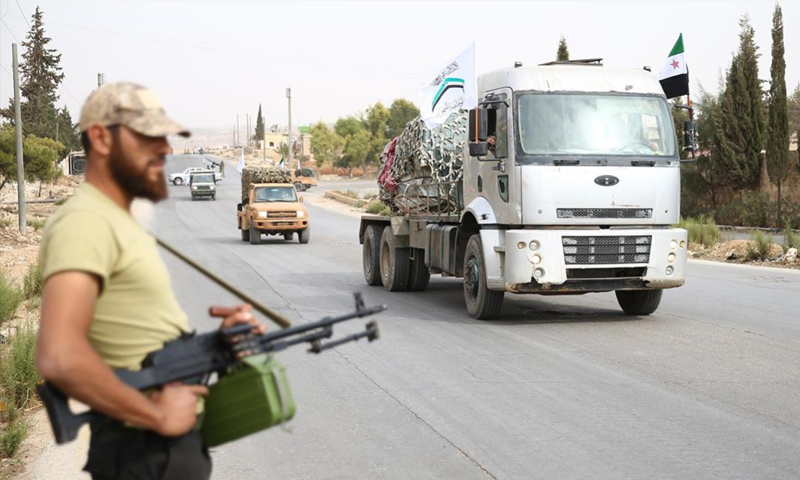 The military factions in Idlib governorate have completed the withdrawal of heavy arsenal from the demilitarized zone, agreed upon under the "Sochi" deal, signed by Turkey and Russia.
Today, Tuesday (October 9), Naji al-Mustafa, spokesman of the "National Front for Liberation," said that the weaponry removal operation has been finalized yesterday, for it has been taken to rear line headquarters and was spread in the posts of the "National Front."
Al-Mustafa added telling Enab Baladi that, in the past a few days, the Turkish forces have reinforced their presence in Idlib, entering weaponry and armored vehicles to the observation points, spreading within the agreed upon area.
Turkey has arrived at a deal with Russia on September 17, providing for the establishment of a demilitarized zone between the opposition-held areas and the ones controlled by the regime in Idlib.
The buffer zone will be 15 kilometers deep in Idlib and 20 kilometers in al-Ghab Plane, western rural Hama.
It has been decided that October 15 be the dead line for the removal of the heavy weaponry and the departure of the "hard-liner" factions from the area, agreed upon by Turkey and Russia.
Al-Mustafa explained that the "Free Army" factions will stay in the buffer zone and will be moving between their own posts in the area.
In sync with the removal of heavy weaponry, Turkey has deployed armored vehicles to launch patrols in the demilitarized zone.
Yesterday, Monday (October 8), Anadolu Agency reported that the Turkish army has deployed various arsenal and armored vehicles to the demilitarized area in preparation for launching patrols in coordination with the Russian forces, under the "Sochi" deal.
According to the filed control map, the borders of the buffer zone on the eastern side of Idlib reach the borders of Atarib, Darat Izza, Saraqib and Maraat al-Nu'man.
At the southern side, the buffer zone's borders will reach the city of Khan Shaykhun, Kafr Zita, Murak and Kafr Nabk, while it will be covering the city of Jisir al-Shugur on its western side and the towns of Muhambal and Bara at its south.
if you think the article contain wrong information or you have additional details Send Correction