Syrian Arab Federation for Football: Only Pictures of Assad are Allowed During Matches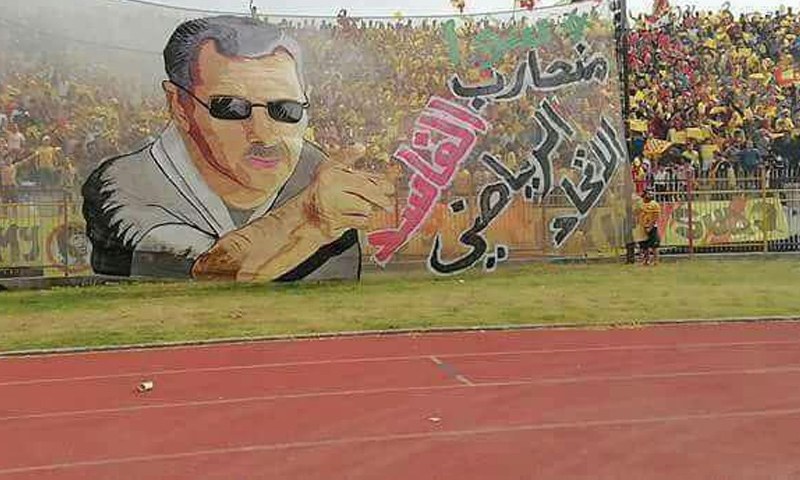 The Syrian Arab Federation for Football has banned holding the photos of people in league matches except for pictures of the regime's president, Bashar al-Assad.
In a statement issued yesterday, Wednesday (September 19), the federation asked the clubs to inform their fans to abide by some practices that are not allowed in stadiums during matches.
The statement forbade the use of fireworks (explosives, smoke, stones and bottles), as well as carrying signs in English or ones intending to offend a person or an entity.
The federation also prohibited the lifting of any picture of people except the pictures of the President Assad without writing any words on them.
This comes before the start of the Syrian league on Friday, amid an expected rise in the number of attendees in comparison to last year since the military operations have stopped in most of the Syrian areas.
The decision comes after the events which Syrian stadiums witnessed last season, the most prominent of which is the incident where the fans of the Tishreen club directed insults at the leadership of the federation and accused it of corruption during a match under the Syrian league, last April.
The sign showed a picture of Assad with the words "Together We Fight the Corrupt Sports Federation," what the Sports Federation and its president Mowaffaq Jumaa considered as an insult.
The fans let fire and triggered a thick cloud of smoke at the stadium and insulted the national coach of the men's team and the match's monitor, although the referee issued a warning to the fans.
Following this, the federation imposed a penalty on Tishreen club with a fine of 200 thousand Syrian pounds, in addition to conducting the club's remaining matches without an audience and outside the city of Latakia.
Over the past months, corruption within the federation was talked about a lot and the weekly "Ariyadhiah," sports outlet, has opened a "war" against the Major General Mowaffaq Jumaa, the federation's president, accusing him of corruption.
However, Jumaa rejected the charges and filed a case against the outlet and two of its sports journalists.
if you think the article contain wrong information or you have additional details Send Correction