"SDF" Detains 50 Persons from Arab Villages in Rural Manbij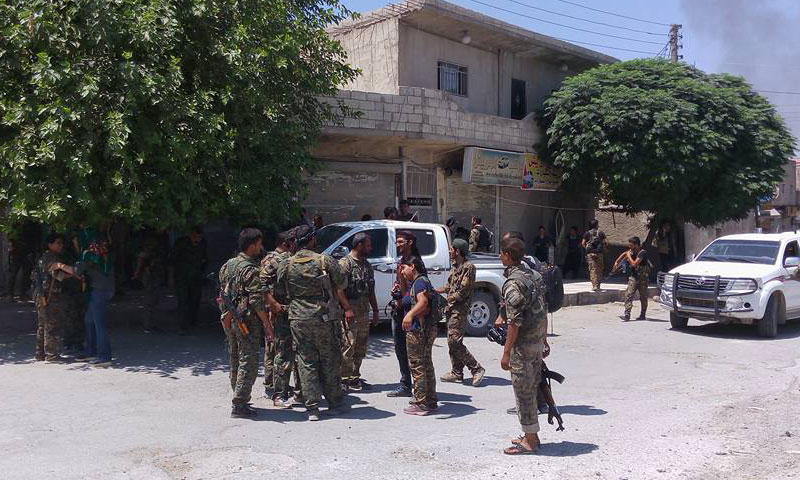 The "Syrian Democratic Forces" (SDF) has arrested 50 persons from the tow villages of Qubba and al-Jaadeh in rural Manbij, eastern Aleppo, on various charges, including former cooperation with the "Islamic State" (ISIS) and communication with "Euphrates Shield" factions.
Aleppo has toady, Saturday (September 22), quoted sources as saying that "SDF" has imposed a curfew in the mentioned villages after several arrest campaigns, which were accompanied with thefts of houses and the people's shops.
The sources added that the Arab villages' well-known figures are trying to negotiate with "SDF" to release the detainees, amidst the people's resentment as a result of the recurrent arrest campaigns.
SDF" refuted the accusation, and early this year it stated that "the Syrian regime and the Euphrates Shield's factions are working day and night as to disrupt the civil peace in Manbij and to trigger chaos through activating the sleeper cells."
"SDF" controlled Manbij in August 2017, with a direct support from the United States of America.
In the past month, protests against SDF where recurrent, disapproving forced recruitment and the arrest that are targeting young people in the area.
Enab Baladi's reporter has on September 19 said that an armed "SDF" group has stormed the town of al-Qubbah, east-northern countryside of Manbij, at down, where it implemented arrest raids and carful checks of the places where personal arms could be found.
Quoting sources from the town, the reporter pointed out that thefts and robberies of civilians' possession accompanied the arrest campaign.
The sources said that "the campaign basically aims to disarm Arabs, similar to what happened in Raqqa a few days ago, and the pretext is former cooperation with the Islamic State."
According to the sources, the town of al-Qubbah that is witnessing raids serve as "a fulcrum for Arabs in the area of Manbij, and SDF currently wants to defang them by disarming them of the weaponry left for them since ISIS last retreat."
They explained that the town is a home for about ten thousand civilians, some of whom are displaced from the city of Raqqa and its countryside.
Early in June, Ankara and Washington arrived at a "Road Map" for Manbij, which includes reinforcing security and stability in Manbij, as stated by the Turkish Minister of Foreign Affairs Mevlüt Çavuşoğlu.
However, none of the "Road Map's" terms are implemented, except for the Turkish and the American patrols at the border separating the areas of the "Euphrates Shield" and "SDF" controlled areas.
if you think the article contain wrong information or you have additional details Send Correction