Palestinian "Liwa al-Quds" Initiates Military Operation in Rural Homs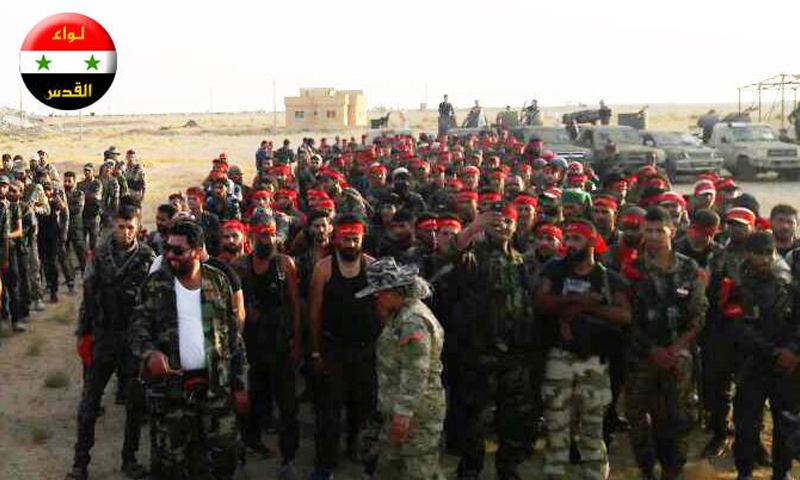 The Palestinian "Liwa al-Quds," known as the "Jerusalem Brigade," initiated a military operation to control the Syrian desert from the direction of eastern rural Homs.
On its official platforms, the Brigade has today, Saturday (September 1), posted a video of its forces while heading towards the eastern countryside of Homs to seize it from the "Islamic State" (ISIS), which is yet active in the area through hit-and-run operations.
The "Islamic State" is fortified in an enclave, extending between the two governorates of Homs and Deir ez-Zor, from the outskirts of the al-Sukhnah area to the borders of the two cities of Abu Kamal and Mayadin in Deir ez-Zor.
In the past a few months, it launched several attacks against Assad's forces' positions in the area, announcing killing dozens of troops, Russians included. The last of these attacks was conducted last May.
"Liwa al-Quds" is one of the most prominent militias that fought beside Assad's forces in Aleppo, with the " Commandos of the Syrian Army" as its slogan.
Its personal are dubbed as "Fedayeen" (Commandos), which Syrian activists considered as a "demonization" of the Palestinian cause and an attempt to distract it from its track.
The militias' action is focused on Aleppo governorate, and it was founded in 2014 under the leadership of Engineer Mohammad Said. Most of its fighters are from the "Bab an-Nayrab" Palestinian Refugee Camp, at the eastern axis of the city.
The last operation, in which the brigade participated, was in the Quintera governorate, which witnessed a deal between the regime and the opposition, under which the latter evacuated all its positions without fighting.
Last May, the "Islamic State" took over positions in the surrounding of the city of al-Sukhnah, rural Homs, unable to enhance its authority in these positions.
Last May, Assad's forces have also announced a military operation to eliminate the "Islamic State" in the desert of Deir ez-Zor.
Back then, the "Syrian Central Military Media" reported that Assad's forces controlled an area of about 1500 square kilometers, in addition to the areas of al-Fidah, Fidat ben Moainea, al-Tamah, 80 kilometers to the western-south of Deir ez-Zor.
if you think the article contain wrong information or you have additional details Send Correction