Commander of "Ahrar al-Sham" Prepares for Idlib's Battle: We Have Political and Military Cards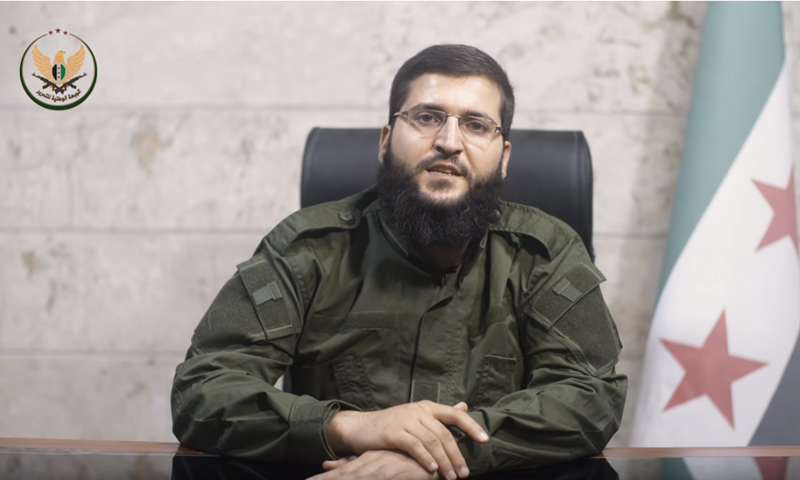 The General Commander of "Harakat Ahrar al-Sham al-Islamiyya" Jaber Ali Basha has announced his readiness for any battle in Idlib governorate, considering that the factions have several political, military and security cards that must be invested.
In a speech published on "YouTube," today, Saturday (September 1), Ali Basha talked about the "massive" preparations which the factions are undertaking to combat any military offensive, pointing out that Idlib would not be like the rest of the Syrian areas.
The newly assigned leader of "Ahrar al-Sham" said that Russians cannot be trusted, for their project has not changed since the first day of the military intervention, including the empowerment of the Syrian regime, empowering it through military resolve.
Ali Basha stressed that "the battle of the north would be a hell to Russians and will never be like the rest of the areas," pointing to commitment to the military resolution that followed the unification of all the factions under a central unified operations room.
This is Ali Basha's first speech after he was assigned the leader of "Ahrar al-Sham" as a successor to commander Hassan Sofan.
Currently, "Ahrar al-Sham" is functioning under the "National Front for Liberation," which receives both military and logistic support from Turkey.
The speech corresponds to a "sensitive" situation under which Idlib governorate is enduring, following the reinforcements which Assad's forces have brought in to its surrounding as to start a military operation in the upcoming days.
According to what military sources have told Enab Baladi, Turkey demanded that the "National Front" factions enhance and largely fortify all the military fronts and informed them that the military support would persist nonstop.
The sources added that Idlib's fronts have been extensively reinforced, in contrast to the pervious years, this can be seen through the number of the shifts' personal at every axis and the military vehicles that have been deployed at the confrontation lines.
The Turkish army is yet reinforcing the observation points it spread throughout Idlib under the "de-escalation" agreement.
Since the beginning of 2018, the Turkish army has installed 12 observation points in Idlib.
In terms of the spread in Idlib governorate, the Turkish army focused on choosing "strategic" areas to install the points, based on their proximity to Assad's forces and Russia's control areas or the geography forming the them, relating to height and military scene it reveals.
if you think the article contain wrong information or you have additional details Send Correction