"Together, We Revive It": Civil Campaign Seeks Cleaning Afrin's City Streets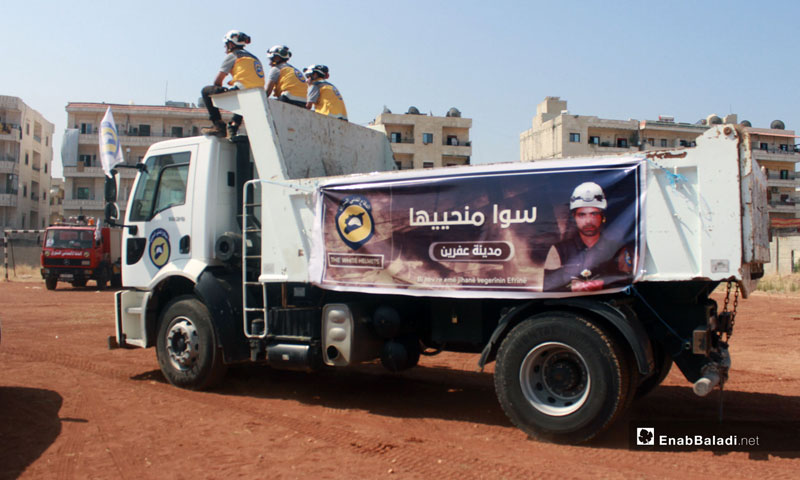 The Syrian civil Defence, in cooperation with the local council in the city of Afrin, Northern Syria, has launched a campaign for cleaning the city's streets and beautifying it, dubbing it "Together, We Revive It."
Engineer Mohammad Shaikh Rashid, a member of Afrin's Local Council, told Enab Baladi that the campaign is 27 hours long. It started on August 1. He added that the goal behind the campaign is cleaning the city of Afrin and removing waste and debris from its streets and roads.
For his part Khalid al-Taypi, the director of the Syrian-Turkish relations in the Syrian Civil Defence Organization, said that about 130 of the organization's members and 35 vehicles participated in the campaign's activities, they were distributed to all the organization's sectors and directors, in addition to the participation of members of the city's Free Police and Military Police members.
Al-Khatib told Enab Baladi, that the campaign is of three stages. The first is clearing off the rubble and filling the potholes in the city roads. The second has to do with removing trash. The third is about reconstructing the median strips and beautifying the city.
Under the campaign, the Civil Defence hanged awareness posters in Afrin's streets, written in Kurdish as the majority of the city's components are Kurds.
The Turkey-backed opposition factions managed to control the city last March, after the retreat of the "Syrian Democratic Forces" (SDF). Last month, Turkey announced that its forces will be temporarily staying in the city of Afrin, Northern Aleppo, for "the sake of its development," according to Hami Aksoy, the spokesperson of the Ministry of Foreign Affairs.
The city is run by a local council, which conducts services and infrastructure maintenance operations, seeking to give life its normal pattern as soon as possible, through repairing water and electricity networks and providing medical centers.
In his interview with Enab Baladi, the former Head of the Aleppo Provincial Department Abdulrahman Dadam said that such initiatives are a necessity and called on all Afrin city's organizations and citizens to participate in the "Together, We Revive It" campaign, so it would spread on a larger scale in the different destroyed Syrian areas.
Last July, the local council in the city of Afrin have launched a similar campaign for cleaning the city's streets, in a series of campaigns aiming to rehabilitate the city.
if you think the article contain wrong information or you have additional details Send Correction