The "Salvation Government" Imposes Licenses on Weapons' Selling and Stockpiling in Idlib Governorate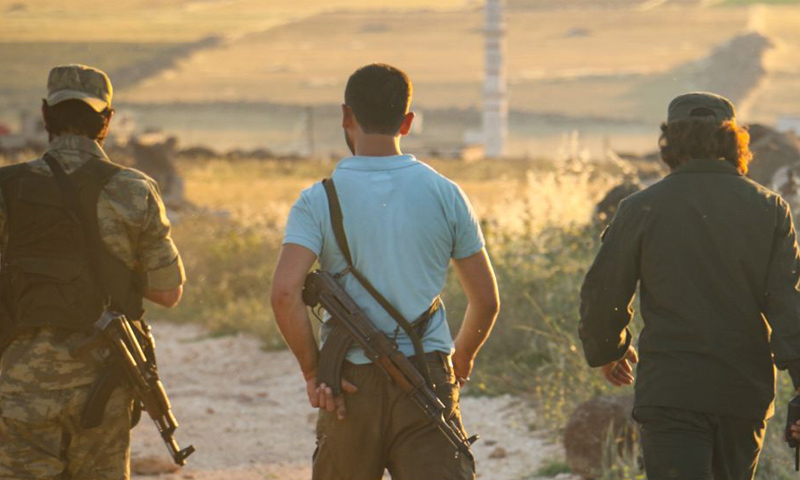 The "Salvation Government" has imposed licenses on the shops that sell and stockpile weapons, ten days after an arms storage had detonated in Sarmada, killing more than 60 civilians.
The government's Ministry of Interior has today, Monday (August 27), published a statement, through which it called the owners of arms shops, of all types, to refer to it starting in early September, to get a license for selling, buying and stockpiling arsenal.
The Ministry declared that owners who violate the decision will be held accountable.
The "Government's" decision came ten days after the explosion of an arsenal storage, owned by one of Sarmada's merchants, in northern rural Idlib, which caused the collapse of three buildings and the death of 67 civilians, including children, in addition to the injury of dozens of people.
The arms trade proliferated in Idlib in the past a few years, with the opposition factions' control over the area in 2015, for a black market for arms trade appeared, with most of its shops located in residential neighborhoods.
The possibility for applying some of the regulations and decisions in relation to the control of weapons' usage, in the opposition held areas, differ according to the security conditions, and the privacy of each area, depending on the factions' in control and the active fronts.
In the past a few days, there were calls in the city of Sarmad for reporting arms and munition storages that happen to exist in residential neighborhoods.
In a statement published by "Sarmada's Rebels," on August 14, the concerned parties called for reporting weaponry storage inside the city, to be immediately moved out in cooperation with the concerned bodies or with "force."
The entities that issued the statement demanded that the safety of the city's buildings be inspected, prior to buying them, through providing the schemes and paper plans to be examined by the local council.
A number of the towns in the northern countryside of Aleppo have already imposed restrictions on selling and possessing arms, including the city of al-Baba which confined selling and buying arms to those who manage to obtain a license.
However, these regulations were not applied in the governorate of Idlib, which is today witnessing a state of security chaos due to its diverse factions and the lack of a unified decision, in terms civil and military dimensions.
if you think the article contain wrong information or you have additional details Send Correction