The "Kurdish Units" Adopts Military Operations in Afrin City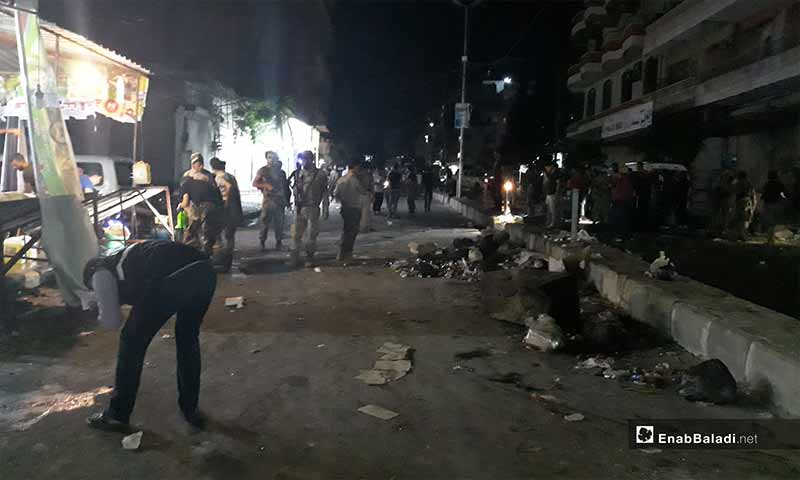 The Kurdish "People's Protection" Units issued a statement adopting military operations targeting several areas in the city of Afrin, Northern Aleppo.
According to the statement published by the "Units" on its official website, on Thursday, August 30, the units personal carried out a series of military operations against the opposition factions and the Turkish army in Afrin during the past two days and killed and wounded dozens.
The statement was issued after an explosive device was detonated on Rajo road near Abu Imad bakery in the city market last night, killing two people and injuring 18 others, including women and children, according Enab Baladi's reporter in the area.
According to the statement of the "Units," the operations came in response to the killing of two of its fighters in the village of Ba'o, on August 8, which they began with a surprise operation against the Turkish soldiers in the village of Ba'o and Kafr Nebo in the region of Shirwa, last Tuesday night, killing a number of opposition troops and rendering a military vehicle malfunction.
Hours later, a military vehicle was completely blown up in the same area and five soldiers were killed by an explosive device. In response, the opposition factions launched an inspection campaign that ended with no one being arrested, according to the statement.
The Units also announced targeting two military vehicles with explosive devices on the road between the villages of Baeia and Kafr Nebo, yesterday morning, killing four soldiers and wounding others, the statement said.
The military operations adopted by the "Units" in the statement, resulted in 19 dead and other wounded members of the opposition and the Turkish soldiers, according to their account.
Enab Baladi's reporter said that the bombing that targeted the city of Afrin last night, occurred in the city market and caused extensive injuries, including amputations.
The "People's Protection Units" have been vowing reprisals against the opposition and the Turkish army in Afrin, through several statements issued over the past months, the most recent of which is a statement by a group called "Falcons of Revenge," which adopted the market operation in the city last night, according Afrin activists "AAN" on " Facebook ".
Over the past months, Afrin has witnessed bombings and assassinations involving soldiers and civilians, three of them in June, which resulted in the death of dozens of civilian and injuries.
On March 18, the Turkish-backed "Free Army" factions took control of the entire city of Afrin after incursions into the city center and at the expense of the "Units."
if you think the article contain wrong information or you have additional details Send Correction