"Tahrir al-Sham" Executes Troops Accused of Involvement in Idlib's Bombings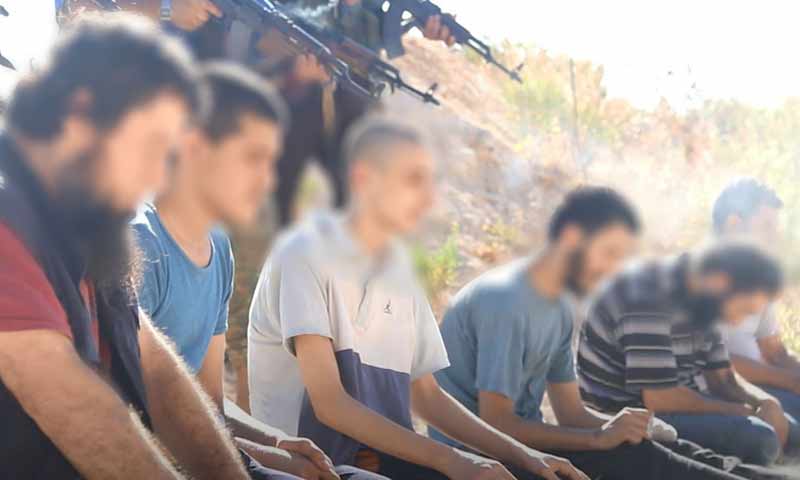 "Hay'at Tahrir al-Sham" (HTS) executed six people, saying that they are affiliated with the "Islamic State" (ISIS), rural Idlib, after it accused them of planting explosive devices and killing civilians.
"Ebaa" Agency, THS-affiliate news outlet, has today (Friday), August 17, published, on its Telegram account, pictures showing the execution of six "Islamic State" recruits, involved in planting explosive devices in the city, as it captioned the footage.
The footages, published by the Agency, show the stages of a shooting to death sentence being performed. Enab Baladi apologizes for not publishing the pictures.
The performed death sentence comes a day after "HTS" checkpoint was targeted, at the outskirts of Saraqib, eastern Idlib, which led to the death of three of "Tahrir al-Sham's" troops, who were killed by a detonated explosive device planted by anonymous persons.
Yesterday, Enab Baladi's reporter informed that the bombing took place near the town of Afs, northern Saraqib, for two explosive devices were detonated at a "Tahrir al-Sham" checkpoint.
"Tahrira al-Sham" has launched, since June, a campaign against positions, where ISIS-affiliate cells are based in Idlib and its rural parts, which led to the arrest and the execution of many troops.
In the past a few months, Idlib governorate has been witnessing a state of rampant insecurity, due to which murders have been committed and civilians, including women, were kidnapped.
"Tahrir al-Sham" accused ISIS-affiliate cells of the security chaos, triggering a campaign against them in several areas targeting the cells' positions. The last of these attacks targeted the city of Sarmin that HTS had complete control over in June 30.
In a former interview with Enab Baladi, Imad al-Din Mujahed, the director of "Tahrir al-Sham" public relations office, said that "Islamic State" is following the "security war" strategy in Idlib governorate after it has been eliminated from all rural Hama's fronts.
He added that the current strategy centralizes on the initiation of dozens of sleeper cells, which will undertake killings and kidnapping operations, as well as "spread corruption in the liberated Northern Syria."
if you think the article contain wrong information or you have additional details Send Correction