Protection from Sexual Exploitation: A Step Further for Humanitarian Action in Syria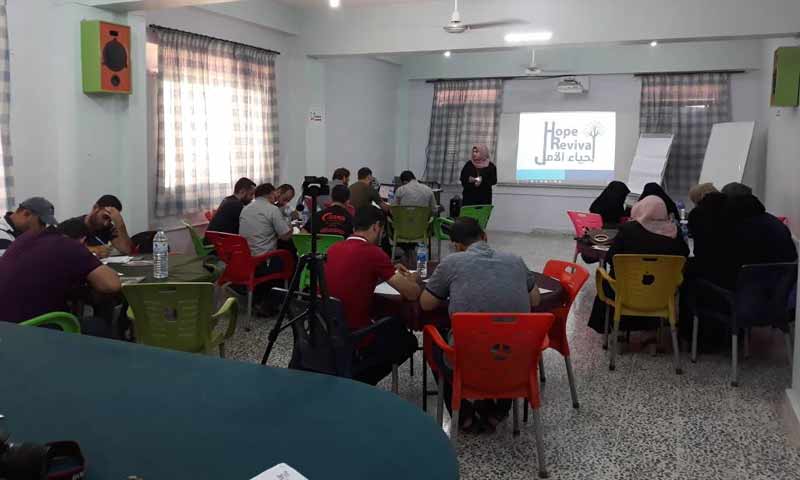 Providing the humanitarian field's workers with awareness against sexual exploitation is a necessity, especially that the work of the organizations that offer relief aid has been going on for years and it might continue for a longer time and the International Humanitarian Law prohibits committing any form of sexual abuse whether against civilians or the workers of relief organizations.
In a step on the road to organizing the activities of the organizations concerned with humanitarian and relief work, "Ihsan for Relief and Development," in Idlib, Northern Syria, has last June conducted a course to raise awareness about the protection from sexual exploitation in the humanitarian filed, in cooperation with "Our Life is Hope" organization, under a program that seeks to communicate as to build regulations and included them in the action schemes of the associations involved in the field.
In an interview with Enab Baladi, doctor Ammar Bittar, the coordinator of mental health and sociopsychological support department at "Our Life Is Hope" Organization, said on Sunday (August 19) that "this course came within the context of the normal development of the humanitarian work, based on a [protocol] adopted by the organizations functioning in the field of protection, to turn it into a part of the internal system of any organization."
According to Bittar, the program aims to achieve a level at which, the internal system of all organizations would include awareness against sexual exploitation in the humanitarian work. The standards that classify behaviors under sexual exploitation are based on an international program called "PSEA" (Protection from Sexual Exploitation and Abuse), for many aid recipients and humanitarian workers do not for sure know if they are or are not being subjected to abuse, or if what they are doing is or is not considered a sexual abuse.
About the course's content, Bittar said: "There is an international content about awareness, provided to us by the international program (PSEA), but we are presenting it in a manner more relatable to the local culture to be accepted by the recipients," pointing out that this course would not be the last in the field of awareness and protection.
The "Hope Revival" organization is offering this program to its staff, working in some parts of Northern Syria, such as Kherbet Eljoz and  Darkush, in addition to its readiness to provide this awareness course to any organization that requests so, because it is specialized in offering services in the fields of mental health, sociopsychological support, protection from gender based violence, including sexual violence and child protection, as well as the importance of preserving personal documents, such as marriage and birth certificates and ownership documents.
Sexual exploitation is not limited to aid recipients, sometimes it happens among workers of the same organization. Last February, for example, "The Times" newspaper accused UN workers of committing thousands of rapes around the world in an investigation titled "Charity sex scandal."
According to Enab Baladi's translation of the investigation, "The Times" said: "The international organization is responsible for 60 thousand rapes, committed by its employees in the last decade."
In recent years, the United Nations has faced scrutiny and strict control over sexual exploitation issues committed by its staff. The Secretary-General of the Organization António Guterres has acknowledged that for many years it has been grappling with cases of sexual exploitation and abuse.
In a report published last year, he confirmed 103 accusations of sexual exploitation and abuse against United Nations personnel, filed in 2016, including 52 cases against the peacekeeping mission in the Central African Republic.
if you think the article contain wrong information or you have additional details Send Correction