"New Day": Down Syndrome Treatment Center for Children in Idlib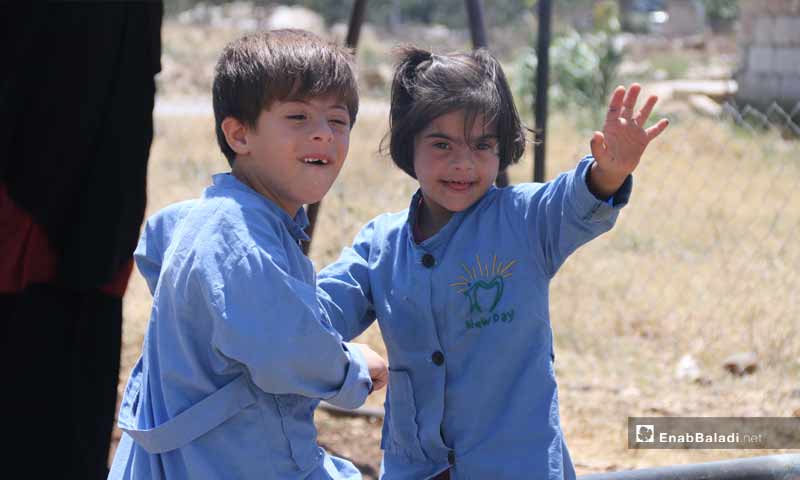 Under the name "New Day," a center for the treatment of children with Down syndrome in the city of Kafr Nabl, rural Idlib, was opened to provide therapeutic and psychological services to children who have autism and "Down" syndrome.
The center, launched, early in August, trough the individualist efforts of a volunteering team specialized in mental health, currently provides treatment for 28 children from the city of Kafr Nabl and nearby towns, as Ahmad Bayoush, the center's director, told Enab Baladi.
Bayoush added telling Enab Baladi that the children who are treated by the "New Day" center have either autism or "Down" syndrome, pointing out that it offers them psychological and intellectual services, as well as entertainment, in addition to personalized treatment that addresses each of the children separately, targeting "brain activation."
The center is supervised by a children mental health specialist, in addition to male and female specialists and trainers in the field, with women supervisors whose sole task is taking care of children. The staff members, said the director, do not get paid, for most of their efforts are "voluntary."
The "New Day" center faces several obstacles, about which Bayoush talked, pointing in the first place to the absence of financial support, since there are not any sponsoring entities, in addition to the lack of logistic tools, doctors and mental health specialists. The center has a single doctor.
The handicaps facing the center also include the presence of children from outside the city of Kaf Nabal, which poses a great difficulty to their relatives in relation to bringing children into the center and taking them back home.
Despite this, Bayoush said that the center will keep providing its services for the longest period possible, pointing out that it already has the ability to keep up the work for a year counting on the capabilities of the volunteering team.
Katia, a three years old little girl, is one of the children benefiting from the center's services. Her mother said that the girl suffers delayed talking and walking, adding to Enab Baladi that her daughter has been receiving physical therapy at the center, which qualifies her for motor and thinking activities, in addition to intensive speech and movement exercises.
People with "Down" syndrome in Syria are vulnerable as they lack response to their needs, for specialized centers which usually offer them treatment and psychological services are absent, especially in areas under the control of the Syrian opposition.
There are no accurate figures about people diagnosed with Down syndrome in Syria, while the percentage is one out of 800 to 1000 births around the world, according to a census issued by the Egyptian Society of Allergy and Clinical Immunology (ESACI), 2015.
There is no cure for this syndrome, which people develop since birth, but its effects can be mitigated through the treatment of accompanying birth defects such as heart or spinal cord, hearing impairments and other physical health problems.
if you think the article contain wrong information or you have additional details Send Correction