"Mare Football Championship" Seeks to Enhance Youth Psychological Buildup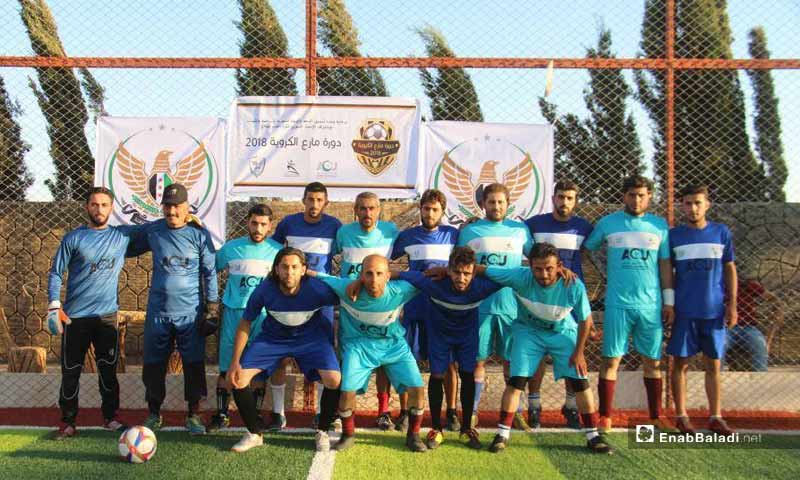 On Friday, August 10, the city of Mare, northern countryside of Aleppo, witnessed the launch of the football championship, called "Martyrs Cup" (Mare Football Championship), with the participation of 12 teams and in coordination with the Assistance Coordination Unit (ACU) and the Syrian committee for sports and Youth.
Mohammad Hassno, the Executive Director of the "ACU," told Enab Baladi that the fiscal aid provided to the championship is a form of support to players, trainers and the football field's needed equipment, which help the committee conduct training as to enhance young people, inside Syria psychologically.
The championship is supervised by the Syrian Union for Football, under the Syrian Committee for Sports and Youth, which functions under the "Syrian Interim Government."
The opening game took place between "Shadoud" and "Sawran," as representatives of their towns, and ended with a draw. On Thursday, August 9, lots were drawn, giving the structure of the championship's matches. The first group will include Shadoud, Sawran, Mare and Tel Malid; the second consists of Tell Rifaat, al-Jaysh, Tafrea,  Al-Asharah; the third group features Talat Hussian, Abu Kamal, al-Mahabah, al-Ziydiah.
Hassno believes that offering support to the "Committee" is a duty, for it is a part of the "opposition," representing, first of all, young people, in addition to its concern for sports as a sector.
Within the context of cooperation between the "Unit" and the "Committee," both have signed an understanding and cooperation memorandum, which covers four points, according to Hassno, who added that it includes offering the committee a headquarters, under logistic support, through which it transfers its executive administration to the Turkish city of Gaziantep, in addition to fiscal aid to conduct two football championships in the city of Mare; the "Northern Cup" and the "Martyrs Cup."
The executive director of the Assistance Coordination Unit added that they are working with the Syrian Committee for Youth to develop the latter's projects and present them to sponsors in a manner that guarantee its continuity.
About the persistence of the support offered to the sports sector in Northern Syria, Hassno said that the "Unit" acts according to a list of priorities through the statistics it collects, based on the available resources, pointing out that this does not necessarily mean that the priority is the relief sector, where the sports sector gets neglected.
The current championship is not the first of its kind in Northern Syria, as it has been preceded by several other sports events, the last of which was the championship that the Syrian Union for Football conducted last month, under the auspice of the Syrian American Medical Society "SAMS," under the name "Martyr Hassan al-Araj" championship.
if you think the article contain wrong information or you have additional details Send Correction