In the Steps of Daraa, Bar Association in Idlib Governorate Disbars Half of Its Lawyers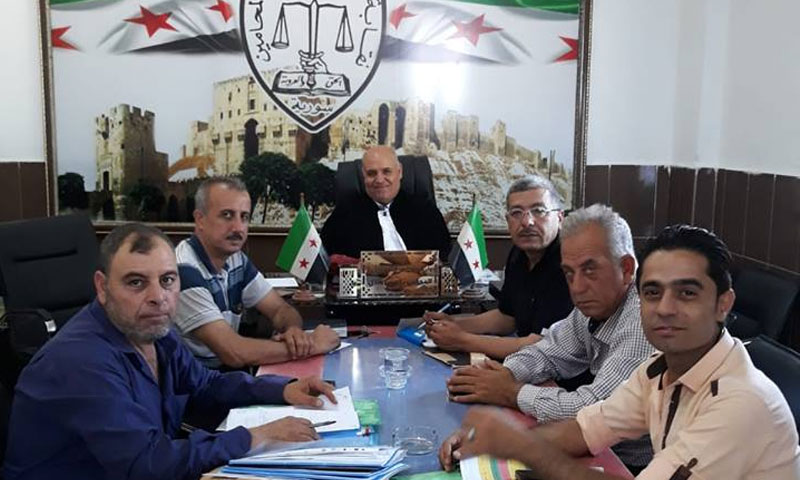 The head of the Bar Association's branch in Idlib Jamal Mesto stated that half of governorate's lawyers have been disbarred.
In an exclusive statement to the local "al-Watan" newspaper, Mesto said yesterday, Monday (August 27), that more than 425 were disbarred out of 950 lawyers in Idlib.
He pointed out that a 100 of these lawyers have left the country, while other 200 lawyers are yet in Idlib but have not been being the union dues.
However, he did not mention the reason why the rest of the lawyers have been disbarred, pointing out that 90% of the lawyers were working before the governorate went out of the Syrian regime's control. Following this, many lawyers failed to exit the area, adding that "the lawyers who did not participate in actions inside the governorate are kept and were not disbarred," alluding to opposition to the regime.
About combating this decision, in an interview with Enab Baladi, Ghazwan Kurunful, the head of the Free Lawyers Association, said that "the association is not a union, but lawyers, human rights advocates and judge's rights organization. Unlike the unions that were established in the areas out of the regime control, such as Aleppo, that lack funding, which hinders them from performing their natural role, defending the rights of the lawyers they are representing."
"The lawyers association is not owned by the regime, and it did not perform its basic duty. It did not for once publish the numbers of the lawyers who were killed under torture in the Syrian regime's detention center, in addition to its silence about the case of the forcibly disappeared lawyers," he added.
Mesto called on the disbarred lawyers to refer to the association to legalize their situation, on the condition that grievances are to be filed to the central association, which has the authority to make a decision about the lawyer's ability to return into work or not.
The act regulating practicing law as a profession in Syria for the year of 2010 provides for disbarring the lawyer in case he/she practiced another profession or failed to meet any of the conditions required for being an association member.
Disbarring is one of the branch association's board's disciplinary decisions; it can be disputed before the board of the association, functioning under the central Bar Association.
Before Idlib, the Bar Association's branch in Daraa disbarred third of the governorate's licensed lawyers for various reasons.
Fahd al-Adawi, Acting Bâtonnier in Daraa, stated to the local "al-Watan" newspaper that the branch Bar Association has disbarred and omitted the records of more than 250 out of 700 lawyers registered in the governorate of Daraa.
Al-Adawi attributed the disbarment to different reasons, including involvement in the happenings, [revolutionary acts], not paying the annual fee and absence from work.
Back then, Nizar al-Skaif, the acting bcâtonnier in Syria, pointed out that the number of the lawyers decreased from 28 thousand to 25 thousand layers, for a massive number was disbarred, for the acts they have undertaken, which "are unworthy of the law profession."
if you think the article contain wrong information or you have additional details Send Correction