Doctor Mu'taz Htaitani Trusted Russian Humanitarian Corridors only to be Killed by Assad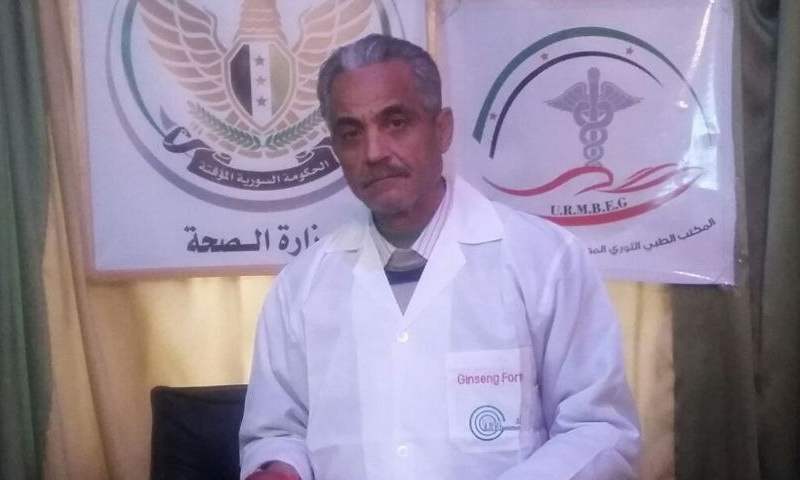 Brigadier General (Dr.) Mu'taz Htaitani was killed by Syrian security forces, after they held him in the housing centers, which accommodated the people of Ghouta when they left their areas last March.
Last March, Htiatnai exited the area through the "safe" crossings that Russia and Assad's forces established in the surrounding of Eastern Ghouta during their military campaign against it.
"Assad Practices in the Displaced Areas" network, active in the eastern part of the capital Damascus, has reported the assassination of the Brigadier General (Dr.) after he was referred to the security branches of the housing centers.
Enab Baladi's reporter in eastern Ghouta has today (Monday), August 6, confirmed the death of the dissident Htiatani, pointing that he was killed a few days ago.
Mu'taz Hittani was born in 1962 in the city of al-Malihah, a cardiologist and Brigadier General. He dissented in 2013 and joined the "Saad bin Ubada" brigade, which operates in the southern sector of Eastern Ghouta.
After Assad's forces took control of the city of al-Malihah in 2014, the dissident Brigadier was satisfied with his medical work before announcing the formation of the "General Military Authority in Eastern Ghouta," to which he became the president.
He also served as a member of the Military Council of Damascus and its countryside.
Htaitani left Ghouta towards the housing centers due to the military campaign which Assad's forces and Russia initiated against the area, in addition to many workers in medical, educational and relief organizations, as well as fighters and gunmen.
Russia and Assad's forces, back then, give the people who exited Ghouta to the housing centers guarantees that they not be harassed or persecuted by security agents.
Assad's forces detained the civil community organizations' workers in temporary detention centers and put others under compulsory residence, according to Enab Baladi's reporter in Eastern Ghouta.
Crossed sources informed Enab Baladi that Assad's forces have sent a number of the young men who left their areas towards the housing centers to military and reserve service.
if you think the article contain wrong information or you have additional details Send Correction