Bombardment Sends Waves of IDPs out of Idlib and Hama's Rural Parts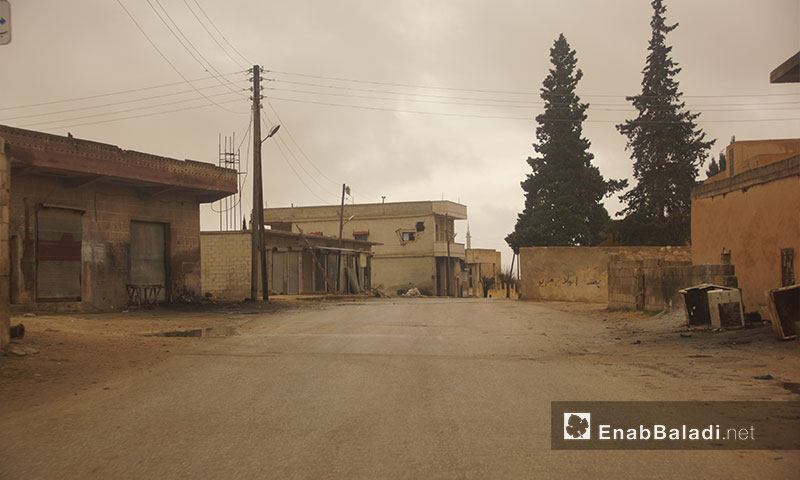 The Russian aerial bombardment and the one conducted by the Syrian regime on the rural parts of Idlib and Hama has led to the displacement of dozens of families in the last a few hours, who left their homes towards safer areas.
Today (Saturday), August 11, Enab Baladi's reporter in rural Idlib said that the displaced people basically emerged from the towns in the southern countryside of Idlib, Khan Shaykhun and al-Tamanah towns in particular, to cover the cities and towns of rural Hama, including Kafr Zita.
"Response Coordinators in Northern Syria" have today issued a statement, saying that the families of the village of al-Tah, rural Idlib, have all left their homes towards surrounding areas, pointing out that the destination areas already host displaced people from al-Tamanah and the eastern countryside of Hama.
According to the statement, dozens of al-Tamanah village's families have been displaced, and only 5 to 10 percent of its population stayed there.
The Russian air forces have intensified shelling on Idlib governorate and rural Aleppo since yesterday (Friday), leading to the death of dozens of civilians, among whom are women and children.
The "Civil Defence" in rural Aleppo stated that an aerial attack, thought to be Russian, has targeted the residential neighborhoods of the town of Urum al-Kubra, killing more than 20 civilians, while the number of the injured reached 50 people, the majority of whom are children and women.
The shelling was sudden and corresponded to the Assad's forces' intention to launch a military operation in Northern Syria to control the governorate of Idlib.
The displacement waves were not limited to the southern rural parts of Idlib, rather they went out of the northern countryside of Hama, as people left the two cities of Kafr Zita, from where part of the people took refugee in the camps, and Khan Shaykhun.
The "Response Coordinators" pointed out that a massive number of the families who were displaced from the targeted areas' towns and villages are now under the trees, waiting the return of the relative calm to their homes.
Idlib governorate, which is now preparing for an expected battle on the part of Assad's forces, is a home to more than four million civilians according to UN estimates.
Turkey, Iran and Russia have at the beginning of August agreed to extend the "de-escalation" agreement in Idlib governorate, Northern Syria, on the condition that attacks targeting Khmeimim Air Base, rural Lattakia, be stopped.
Late in July, Russia has announced that it does not intend to undertake any military operation in Idlib right now, relating the governorate's fate to Turkey and the "moderate" opposition factions.
Formerly, Turkey has warned Assad's forces from launching any attack against the opposition factions' areas in Northern Syria, alluding to the failure of Geneva deal.
if you think the article contain wrong information or you have additional details Send Correction