A Syrian Football Academy at the Turkish City of Bursa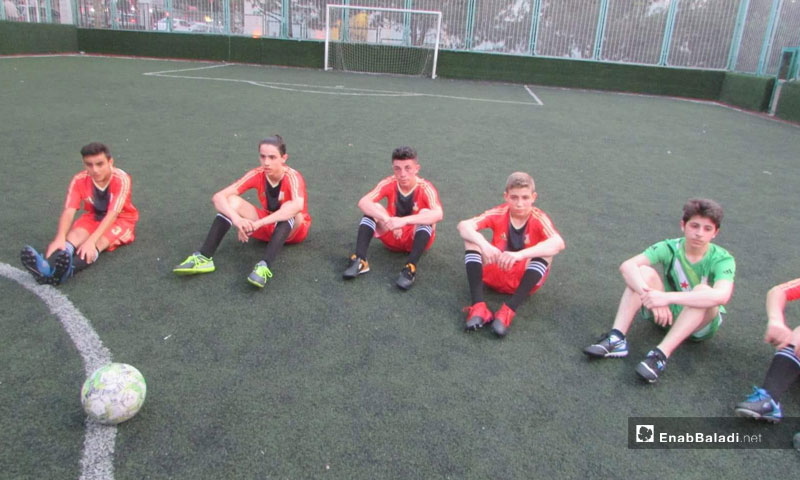 With the beginning of 2016, the "Free Syrian Team" ceased to participate in football matches, which led to the suspension of players from playing and dispersal, and thus its associates lost the hopes they had in football, which prompted Abdul Rahman Abu Zeid, a young man from the city of Aleppo, to establish a football academy in the Turkish city of Bursa.
I Faced Difficulties and Want to Help Others
Abu Zeid, a player of the "Free Syrian Team," has told Enab Baladi that the failing experience has triggered him to target young people through the academy, which he established to realize their hopes or to, at least, place them on the right road to achieve them.
Abu Zeid points out that he decided to establish the academy in February 2016 and the opening was modest according to the available resources, adding that the center, since the launch, has hosted 300 child and player.
The project includes young people and children who want to develop their football skills and wish to learn this sport, without finding anyone to help them, according to Abu Zeid, who explained that this was the story of his life and the reason why he wants to help, pointing out to the positive results of the training.
The academy works within the available resources, although limited, but it faces various difficulties starting with logistical needs and reaching fiscal requirements, for the director relies on aid provided by the trainees' parents and friends.
Obstacles Hindering Going Professional in Turkey
Many obstacles prevent young Syrians and children from joining the Turkish clubs, recognized by the Turkish Football Federation, starting with the lacking identity documents and not ending with the language barrier, making it difficult for the players wishing to become professional footballers.
Abu Zeid says that the issue of identity documents is the most difficult, pointing out that he faced this obstacle upon trying to join a Turkish club, which demanded that he has a passport and a residency permit after he applied for the tests and passed them. These demands are expensive for young people and are a burden to the families.
The Syrian "Ajyal Sport" (Sport Generations) Academy in the Turkish province of Antakya has successfully entered the Turkish league and was registered by the Turkish Football Federation, having fulfilled all the conditions imposed by the latter. But what makes this impossible in Bursa is the province's Youth and Sports Bureau's refusal of the idea of foreign establishments, in addition to the language barrier which poses a real problem.
Despite the great difficulties experienced by Syrian refugee athletes upon trying to become professionals, many of them resort to conducting popular championships in the Turkish cities and provinces, through which they follow their dreams and passion for football, depending on individual initiatives that may be profitable or charitable.
if you think the article contain wrong information or you have additional details Send Correction