A Civil Initiative for Cleaning the Streets of Ein Tarma in Eastern Damascus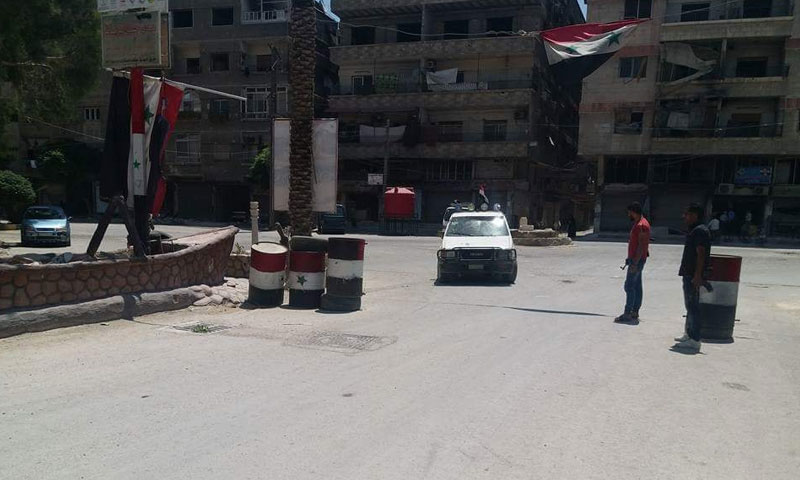 The city of Ein Tarma, Eastern Ghouta, has witnessed a volunteering campaign conducted by both civil and youth entities, which sought to clean the city's streets for the first time after Assad's forces have controlled the area.
The city suffered from constant shelling and a four years siege, similar to all its neighbor cities in eastern Ghouta; a suffering that ended with Assad's forces recapturing it and the retreat of the opposition factions in March 2018.
Mohammad, 26 years old young man and one of the campaign's volunteers, told Enab Baladi that the initiative aims to clean and beautify accessible streets, for many streets are yet difficult to pass due to the accumulated rubble, which volunteers cannot clear off.
Mohammad pointed out that the campaign was conducted in cooperation with Shiekh Walid Dawood, the Head of the Reconciliation Committee in the city, who in his turn provided a car for transporting the garbage, explaining that the campaign started on August 3, and it will go on periodically.
At the same time, the government of the Syrian regime is working on the rehabilitation of a few of the medical and service facilities, as well as schools and streets destroyed by the bombardment.
The campaign followed several others conducted by the Syrian Students Union, the Syria Trust for Development and other organizations, known for being close to the Syrian regime.
Mohammad, however, pointed out that the rehabilitation process is too slow, if compared with the area's massive needs and the destruction the battle caused, which triggered the volunteers plan for additional campaigns, both service and awareness related.
The "Reconciliation Committees" have, on August 11, dismantled the checkpoints that closed the entrance to the city of Ein Tarma, in cooperation with the Republican Guard, which spread in the area after "it achieved a good level security," according to what the loyalist "Damascus Now" Network has reported on its "Facebook" account.
At the same time, the city's people are complaining about the accumulating garbage and that municipality refrain from clearing off, which led to the proliferation of mosquitoes and other insects.
In addition to other complains relating to the deterioration of the situation in the city, as a result of the many neighborhoods which rubble is yet closing, making it difficult to pass through them. Mohmmad pointed out that the two neighborhoods of al-Tabaleh and al-Zianiah appear as if  "they have freshly went out of the war," amidst demands for vehicles to clear off the wreckage as soon as possible.
if you think the article contain wrong information or you have additional details Send Correction