Under Turkish Auspices, a Cultural Center at the City of Al-Rai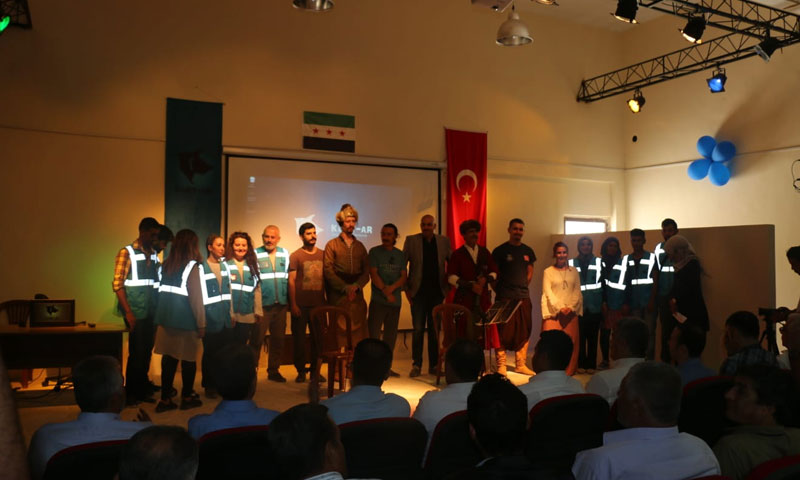 The Civil Council of the City of al-Rai, northern Aleppo, has opened a cultural center, called "Musa Özalkan," in the presence of Turkish officials and with the support of the Turkish organization of "Kurt Art."
The center, launched on Thursday, July 19, is given the name of a Turkish soldier who died during the "Olive Branch" military operation, which Turkey started last January in the city of Afrin, Northern Syria.
Alaa Hamad, the director of media and public relations in the al-Rai City Civil Council, told Enab Baladi that the center consists of halls for hosting sessions, with the ability to accommodate 120 people, and a hall for holding workshops, a cinema, three classrooms, in addition to a playground, a basketball filed and another for football.
He added that the center will offer quality services at the cultural level in the city, on top of which are educational services for children and women, periodical evets, including lectures by specialists from different fields, adding that the everyone is welcome to attend or present cultural seminars and lectures.
The opening ceremony was attended by Turkish officials, a delegation representing the mayor of the city of Gaziantep, the mayor of the city of Kilis Selçuk Aslan and the head of the Turkmenistan Council Wajih Juma, as well as a number of leading officers of the Free Police in the city of al-Rai, on the borders with Turkey, and people from the city, as Hamad informed Enab Baladi.
Turkey has been lately focusing on supporting civil life in Northern Syria, after it military aided the "Free Army" factions during the two operations of the "Euphrates Shield" and "Olive Branch," for the area is administratively supervised by Turkey, which directly run its affairs, starting from the security and developmental process to the educational and relief-based dimensions.
Despite the fact that the opening ceremony was dominated by a Turkish cultural sense, with the Turkish music played, the reading of the Turkish national anthem and the presentation of ancient Turkish traditions, including a horse parade, Ismat Abbas, the head of the Civil Council of the city of al-Rai, in his speech during the event, stressed that the cultural center "will contribute to upbringing the children in the city of al-Rai and its surrounding on a Syrian cultural basis."
He explained that opening the center is the implementation of the Turkish soldier Musa Özalkan's will, who requested the establishment of an educational center that carries his name prior to his death in the battles of the "Olive Branch" operation.
The opening ceremony ended with letters written by participants and placed in a box called "Time Box" that was buried in the Cultural Center's park, to be opened 40 years later.
if you think the article contain wrong information or you have additional details Send Correction