Syrian Regime's Air Force Attack Towns in Western Rural Idlib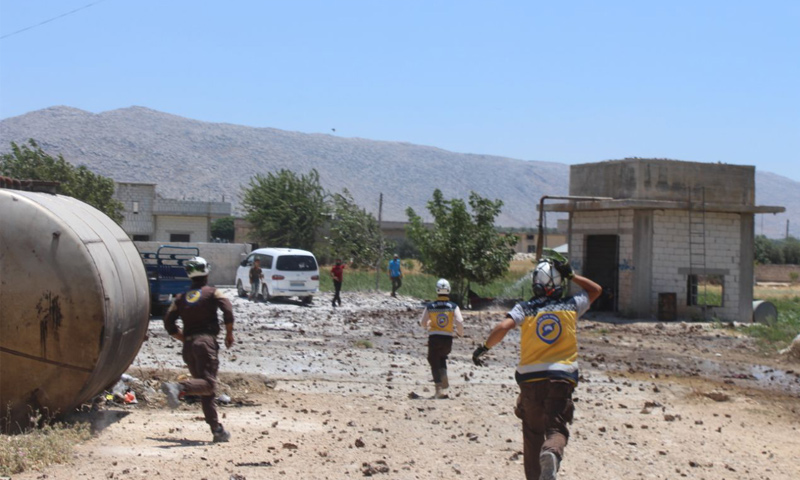 The Syrian regime's military aircraft have targeted the cities and towns in the western countryside of Idlib hours after the oppositions' faction's attack on Assad's forces' positions in rural Lattakia.
The raids focused on the towns and villages of Bsanqul, Aynata, Bsheiriyeh, Mishmishan, Frikeh, Muhambal, Urum al-Jawz, Kanisat Nabi 'Izz and al-Rami in the southern countryside of Idlib, Enab baladi's reporter in rural Idlib said today, July 10.
The reporter said that the shelling started suddenly, accompanied by rocket and artillery bombardment on some of the towns in Mintar and Frikeh in the western countryside of the governorate.
The Syrian regime's official media reported that "the air forces are implementing intensive air raids against the gunmen positions in the town of al-Rami in the southern countryside of Idlib".
The "Civil Defense in Idlib" said that a woman died today, and many others were injured due to the shelling that targeted the town of Bidama.
It added that two of its members were injured in the aerial attack that targeted the village of Mishmishan  in Jabal al-Wasţānī, pointing out that the emergency teams are currently searching for injured and people stuck under rubble.
The raids were launched a few hours after an attack was implemented by the opposition factions against Assad's forces' positions in the northern countryside of latakia, due to which 25 troops were killed, including eight officers.
Under the International Humanitarian Law, civilians under the control of "hostile forces" must be treated humanely in all circumstances and without any adverse distinction.
It stated that the parties to a conflict must at all times distinguish between civilians and combatants, directing attacks only to combatants and never at civilians.
The shelling coincides with a state of security chaos in the governorate, in which dozens of civilians and military personnel were killed in the past few days by cells belonging to the "Islamic State".
Russian raids on Idlib have not stopped despite the deployment of Turkish observation points and recent talks of a comprehensive ceasefire in the governorate after the "Astana 9" talks.
if you think the article contain wrong information or you have additional details Send Correction