Rural Aleppo: Beekeeping Threatened by a Hot Summer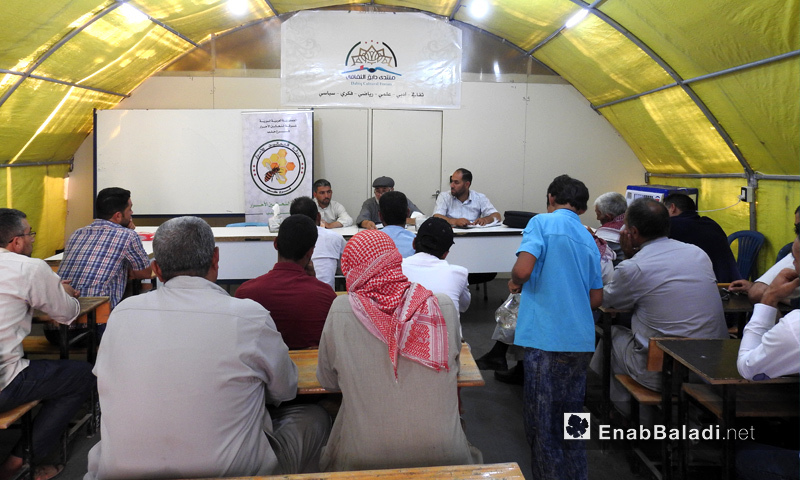 Beekeepers in Aleppo's northern countryside are facing a hot summer this year, which may threaten honey production if they do not combat the negative effects of the atmosphere and find solutions to poor pasture and lack of water.
The Free Beekeepers Association, in Aleppo, has held an awareness session on July 7, which was attended by a number of beekeepers in the northern countryside of Aleppo, where they discussed the problems faced by beekeepers in the summer, and the procedures to be followed, according to the Secretary of the Association Mohammad Mari.
Mari told Enab Baladi that the main objective of the session, held monthly, is the exchange of information and ideas on beekeeping and enhancing the professional status of the beekeepers belonging to the Association.
In March 2017, the Free Beekeeping Association was founded in the town of Dabiq in the northern countryside of Aleppo. It was named "The Beekeepers' Chamber – Aleppo Branch". The president and deputy of the association were elected, as well as a secretary and a director of public relations.
The Association's work has crystallized after several complaints by beekeepers, who suffered from their lack of an organization or trade union that sponsor production, provide supplies and advice to beekeepers and guide their efforts.
The "Chamber" seeks to provide services to beekeepers in northern and eastern Aleppo, and to organize scientific and practical seminars in which problems are raised, and methods of beekeeping are introduced.
It also seeks to "develop the profession and develop ways of dealing with it with the aim of increasing Aleppo countryside's production of honey," said Mohammed Mari.
Numbers on Honey Production
The hardships faced by beekeepers in northern Syria, especially in the summer, are reflected in the inability at shading the beehives and the difficulty of securing clean drinking water for bees, as Mohammad Reza Hamdan, a beekeeper has told Enab Baladi.
He added that holding awareness seminars to alert beekeepers to the need to shade beehives "is very necessary," praising the seminar held by the beekeepers in this context.
Mohammed Jamil, a beekeeper, told Enab Baladi about other difficulties: the lack of pastures and the dryness of the waterways, as well as the narrowness of the area where the bee farms are scattered. Beekeeping is limited to the northern countryside only. "Bees need diversity in pastures to produce honey "He said.
Honey production has fluctuated significantly over the past seven years. In February 2017, Iyad Daaboul, president of the Union of Arab Beekeepers in Syria, said that the production of honey declined by about tenfold compared to 2011 and 2017.
He added that the current production of honey ranges from 300 to 400 tons, while the local market's demand is between 1000 and 1200 tons, noting that Syria used to produce about four thousand tons per year before the outbreak of protests against the Syrian regime, in March 2011.
if you think the article contain wrong information or you have additional details Send Correction