Over 400 IDPs from Daraa Arrive at Idlib Governorate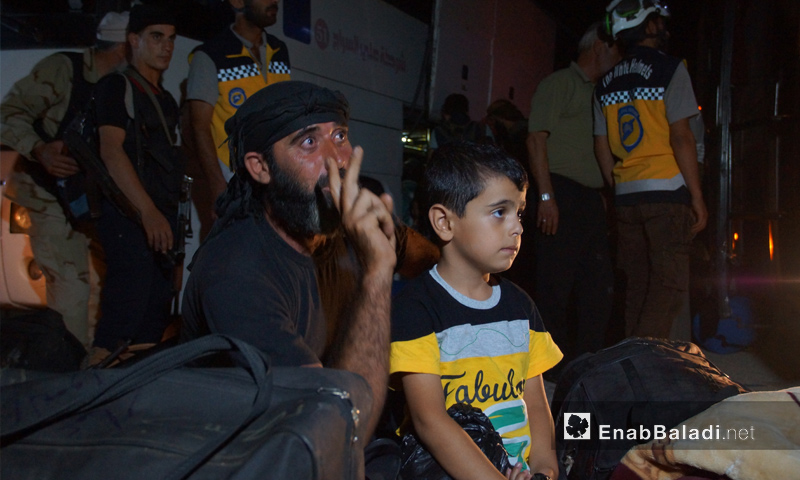 Under the departure agreement signed by the opposition factions with the Russians, 430 people, who have been displaced from Daraa, arrived at Northern Syria.
The "response coordinators" in Northern Syria, on their official accounts, said today (Monday), July 16, that the displaced people were distributed between Jarjnaz, the two camps of Mizanaz and Saed, in addition to a portion that headed to the two cities of Ariha and Taftanaz.
According to statistics, the overall number includes 77 women, 213 men and 140 children.
The "Syrian Civil Defence" teams are transporting complete patches of people from the exchange points to the housing places, Enab Baladi's reporter in rural Idlib said.
The first portion of Daraa's displaced people's departure came after the heavy and medium weaponry and all the areas held by the opposition factions were handed over to the Russian police.
The Russian Military police has entered Daraa al-Balad and hoisted the Syrian regime's flag in the public square last Thursday, applying the deal signed with the Free Army factions in the area.
The regime also captured al-Omari Mosque, at the heart of Daraa al-Balad, considered one of the Syrian revolution's symbols, following its forces admission to the city accompanied by Russian police.
Backed by Russia, Assad's forces have started a military operation against the oppositions factions last June.
They managed to control marked areas of Daraa governorate, reaching its western rural parts, which they are trying to completely control.
In the past months, Idlib has hosted all the people displaced from the areas where Assad's forces compelled civilians and factions to exit. On top of these areas are eastern Ghouta and eastern Qalamoun.
The latest portion of internally displaced people, which Idlib became a host for, came from the northern countryside of Homs, where a deal was signed, providing for those who refused the reconciliation and handing over all medium and heavy weapons departure to Northern Syria.
if you think the article contain wrong information or you have additional details Send Correction