Israel Joins Jordan in Saying: We Will Not Allow Syrians to Enter Our Territory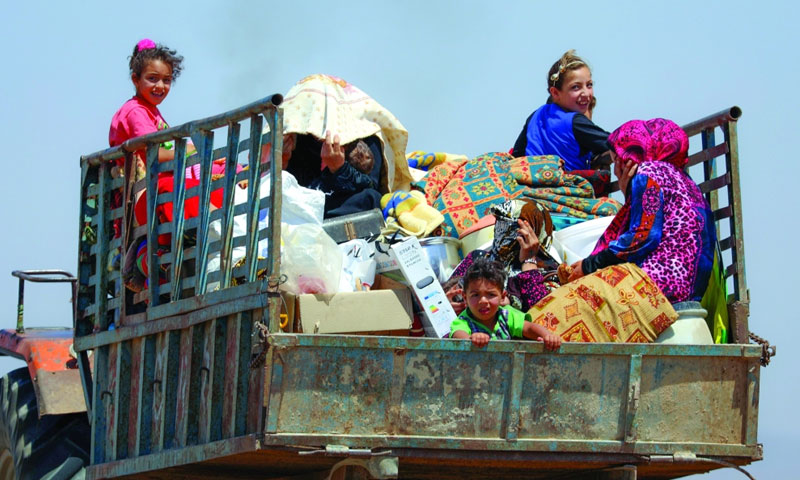 Israel has said that it will not allow Syrians displaced from southern areas from entering Israeli territory, amidst a state of alert by the IDF in the Syrian border area.
The Israeli Defense Minister Avigdor Lieberman said via his Twitter account on Friday 29 June that Israeli would not allow the entry of Syrian refugees across the border.
Lieberman added: "We are closely monitoring events in southern Syria, and we will protect Israeli security interests. As is always the case, we will be ready to provide humanitarian assistance to civilians, however we will not allow any Syrian refugees into our territory".
Israel's Energy Minister Yuval Steinitz said on the Israeli radio station 102 FM: "We must prevent the entry of displaced people from Syria into Israel. We have prevented such cases until now".
The IDF said on 29 June that it was monitoring hundreds of Syrian civilians from refugee camps on the Syrian side of the Golan area, while sending them aid, according to Reuters.
IDF spokesman Avichay Adraee affirmed that the military would not allow Syrians fleeing from areas of conflict in their country to cross the border, saying that this was in Israel's security interests.
Adraee added that the IDF has for years provided support to displaced Syrians as an expression of goodwill and "good-neighbourliness", as he put it.
Around 66,000 people have been displaced from eastern Daraa Governorate to the Jordanian and Israeli-occupied Golan border regions, according to the UN's figures.
Israel's refusal to allow entry to refugees coincides with a similar refusal by the Jordanian government, despite calls in Jordan for the border to be opened.
Eastern Daraa Governorate has seen heavy waves of displacement over recent days as a result of intense bombing by aircraft and advances by Assad's forces in several areas.
Regime troops and allied militias, supported by airstrikes, have launched attacks on opposition factions in Daraa, with strikes killing dozens of people during recent days.
Israeli clinics treated around 1600 Syrians during 2013 and 2014, most of them civilians, according to the IDF. Israel has established field hospitals near the ceasefire line along the border of the occupied Golan Heights, as reported by AFP.
The Syrian government has accused Israel of supporting opposition factions near the Golan border and directing their campaigns inside Syria, particularly in Quneitra Governorate and adjacent areas.
However, Syrian regime officials have said that "Syria's security is also Israel's security" since the beginning of the rebellion in March 2011. This has also been expressed by Bashar al-Assad's cousin, Rami Makhlouf. Israel has seen Assad's remaining in power as in the interest of it protecting its border.
if you think the article contain wrong information or you have additional details Send Correction