ISIS "Suicide" Attack Kills 38 in Suweida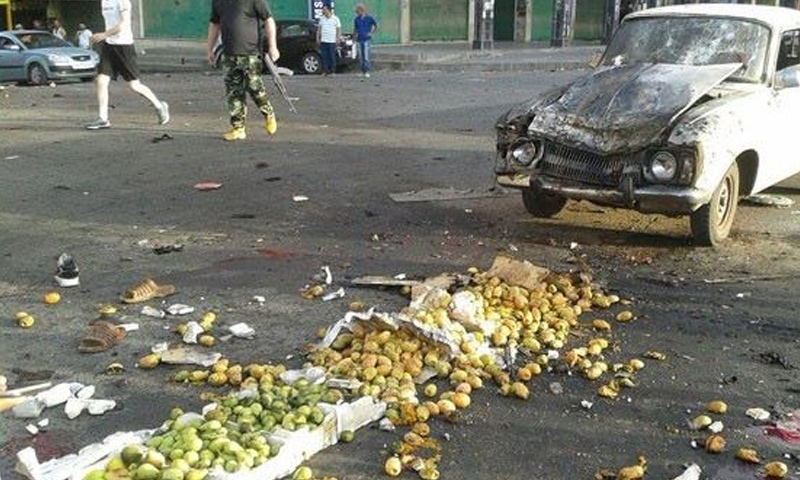 A surprise attack by ISIS fighters in parts of Suweida Governorate has killed 38 military and civilian personnel, according to reports from the region.
Enab Baladi's correspondent in Suweida reported on 25 July that ISIS fighters had entered the villages of al-Matouna, Shabki, Tarba, Dama, al-Sharihi, and al-Ghayta without prior warning.
Suicide attackers belonging to the group also infiltrated neighborhoods in Suweida city and killed civilians by firing shots and throwing grenades indiscriminately.
Enab Baladi's correspondent said that "suicide" operations had targeted the city's Dawar al-Najma, Dawar al-Mashnaqa, al-Mihwari Street, and al-Muhlakh areas, and that all of the entrances to the city had been closed off.
The sounds of explosions were heard in the city's neighborhoods throughout the day following the attacks.
Clashes have previously broken out between ISIS militants and fighters from the "Men of Dignity" faction in the above-mentioned villages.
According to Enab Baladi's correspondent, soldiers from the Syrian regime's forces took part in combating the attack on 25 July in al-Sharihi and Shabki villages. Syrian state media also reported that Assad's forces had surrounded ISIS fighters inside Shabki village, which is located in Suweida's eastern region.
According to Syrian state media, regime aircraft also targeted the sites of ongoing clashes where ISIS fighters had infiltrated with airstrikes.
The surprise attack took place days after a visit by Russian officials to Suweida, in which they met local sheikhs from the Druze sect. During these meetings the Russian officials informed the sheikhs of the importance of local militant factions in the area handing over their weaponry to government-allied forces.
Battles have also been ongoing in the Yarmouk Basin area, where regime forces have been attempting to advance after taking full control of the remainder of western Daraa Governorate.
Enab Baladi's correspondent reports that the clashes with ISIS in Suweida have caused casualties among both civilians and military personnel from the "Men of Dignity" faction. Among those injured have been the commanders Thaer Fayed (commander of the Bayraq al-Maqdad division), Sheikh Haysam Zayn al-Din from Bayraq al-Sindyan, and Hamza Khatar from Bayraq al-Haq.
The correspondent cited a paramedic from Suweida city's National Hospital who said that a stream of dead and injured people had arrived at the clinic following the clashes with ISIS breaking out. The medic said that all medical staff, both those on duty and not on duty, had been put on alert.
The Syrian regime withdrew a large part of its forces in June from Suweida's desert region, redeploying these to eastern Daraa Governorate around Busra al-Sham town.
Our correspondent reported at the time that the regime's forces had been redeployed by surprise to Daraa, despite the ongoing campaign against ISIS in Suweida.
ISIS is currently holed up in a small pocket of Suweida's desert region, where Assad's forces had sent a group of 800 soldiers which had previously posted in the Damascus area.
if you think the article contain wrong information or you have additional details Send Correction