How Losing "Psychological Resilience" Threatened the Life of a Syrian Young Man Three Times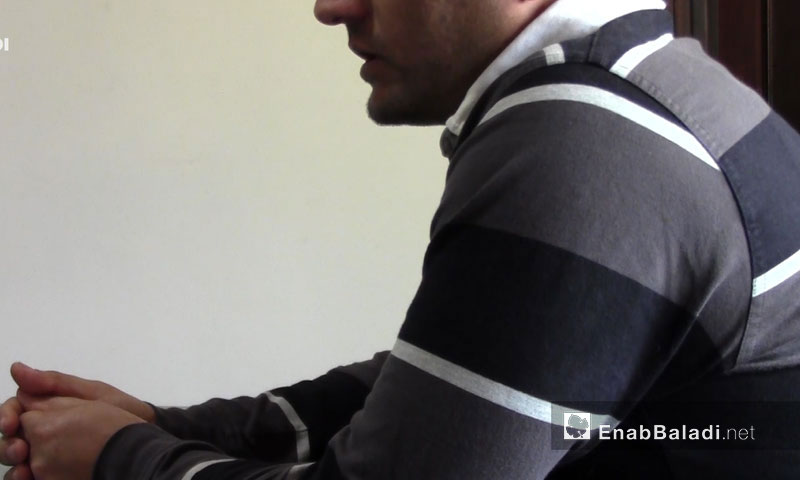 He describes himself as a neutral person, who loves "peace." It is this concept of peace and the opposing war distortions led the young man Samer to make a decision that has the ability to speed up life, or end it rather, as he attempted to commit suicide three times and failed in the three times.
Samer's (32 years) dilemma is the refugee crisis, which plagued not only Samer, but also more than 5.6 other Syrians. Under this headline, difficulties branched painfully, to start with a work injury that cost him his livelihood and did not stop at his losing his beloved family members.
A Story of Mixed Afflictions
Samer took refuge in Lebanon, fleeing the Syrian war. He carried "bad" memories, into the details of which he preferred not to go as he spoke to Enab Baladi. However, he relented and revealed a few scenes of misery that he suffered, such as watching the people he loves dyie, the pain of which is backed with the sound of shelling, destruction and images made up of rubble.
Samer worked in an industrial stone workshop and offered both financial and moral support to his family that is still in Syria, while he lived in his sister's home in Lebanon, but a work injury in his leg attached him to bed, after which the symptoms of a psychological crisis began to appear on him.
The impotence that accompanied his life of loneliness was the reason that led Samer to think of terminating his life. After his sister's family left the house, where they lived together, the young man could not handle the separation from his eight months old nephew, with whom he had a strong and a special bond.
"They have all abandoned me. No one listened to me. I used to tell them that I am in pain, but no one responded", Samer tells Enab Baladi, pointing to the nightmares that never relinquished him after the injury, in addition to the panic attacks that coincided to a chronic tremor, which took from Samer his hope in life to the point where he decided to take his own life by using a blade to slitt his vein without the slightest hesitation.
The bold attempt did not take Samer to the place he desired; it failed and might have given him a new motive for life, for he decided to undergo psychotherapy. The treatment was backed by a hope inspired by the United Nations High Commissioner for Refugees (UNHCR) in Lebanon, which promised to transport him to a European country to receive the needed treatment, physically and psychologically.
Samer says that the Refugee Agency in Lebanon has filed his case twice to Ireland and Sweden, but his application was met with refusal twice without mentioning the reason. This, once again, took from him the hope that he regained after deep suffering, due to which he again resorted to suicide. He took 30 pills at once and was moved to the Intensive Care Unit not to a grave.
Samer continued the challenge, fluctuating between suicide and therapy, choosing to receive therapy again with a specialized doctor in an association, the name of which he did not reveal. The Association stole from Samer what it was supposed to give, for he was surprised by one of the psychological counsellors who reprimanded him for not improving while praised other patients who markedly improved, unlike him.
Immediately, after hearing the counsellor's words, Samer felt guilty for not responding to the therapy and nightmares and illusions found their way again to him on a daily basis. For the third time, it was a dead end for him, and he decided to commit suicide by putting a rope around his neck, which he fixed to the room's ceiling. Nonetheless, the voices of the cats which he raised prevented him, for they stood beside him, looking at him and implored as if saying "do not do it."
Today, Samer goes for a psychological and medical therapy at the Psychological support Association in Lebanon; he promised the workers to tell them incase he had any suicidal thoughts, telling Enab Baladi that all he wants is that his life goes back to what it used to be prior to war.
 "Psychological Resilience": A New Battle that Syrians have to Win
About Samer's case, doctor Ammar Bitar, the coordinator of Mental Health and Psychological Support at "Hope Revival" Organization, functioning in Turkey, attributed Samer's situation to what he called personal "Psychological Resilience" which relates to accepting or refusing emergencies.
In his interview with Enab Baladi, Bitar added that the extent of each persons' ability to accept changing condition, especially bad ones, relates to a number of factors, including the social back ground where he/she was raised and the ethical base they own.
"Samer received several shocks, including asylum, injury, loss of his nephew, rejection of his asylum applications, and lack of understanding on the part of his relatives and friends". The trauma caused Samer a "psychological fragility" which led him to commit suicide, Bitar said. Suicide was a message from Samer "I'm afraid, I'm sad, I want you to understand me."
There are many studies that have monitored the psychological effects of the war in Syria, although they are not free of exaggerations and sometimes of fallacies, what is undeniable is the scars that war has left inside every Syrian, these scars were able to push some "weak souls" to adopt a modern idea to the Syrian society, suicide.
A study conducted by the United Nations in July 2014 revealed that 41% of the Syrian youth in Lebanon thought of committing suicide, and that this was due to their lack of security and legal stability.
Although suicide is not allowed by customs, traditions and "religion" of the Syrian society, Samer's courage must be applauded, when he choose to speak about his condition and for resorting to psychological therapy in a society where, as Samer puts it, people like him are almost alienated.
if you think the article contain wrong information or you have additional details Send Correction