Fear and Poverty Suffocate Deir ez-Zor Students' Joy of Success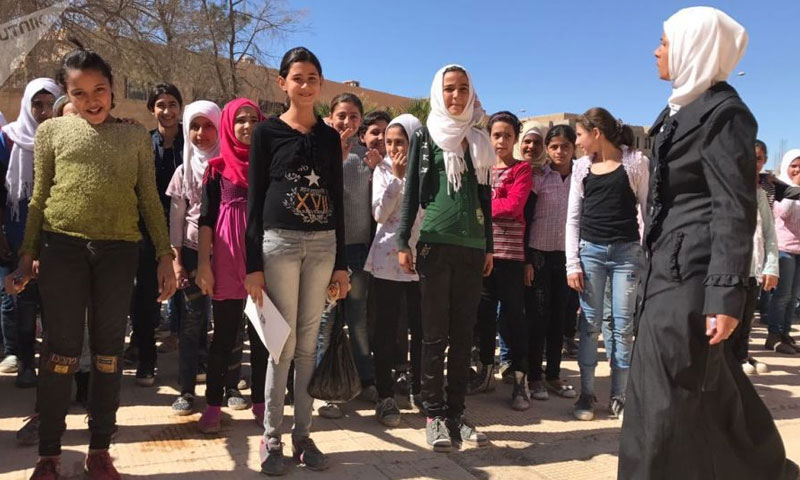 With a big smile on her face, Abeer, 18 years old, receives the people who come to congratulate her for passing high school exams. "It was a difficult time. But thank God, I managed it", she says.
In the past a few days, some sort of happiness has overcome the neighborhoods of al-Joura and al-Qosour, upon the declaration of the high school examination results despite the life difficulties that are smothering the student's lives.

"For a while, we though that life has ended, and we waited for death. Today, however, life's doors are wide open before me, and I am planning for a better future", Abeer says, who supports her family financially through sewing clothes.
The high school, scientific, literary, vocational and Sharia branches, examination results were issued on June 28. The success rates deteriorated if compared to those of 2017. The ratios of the scientific branch reached 58% only and a similar weak rate marked the results of the literary branch, as it scored a 41% only. Both percentages, thus, reflect the dire circumstances which students had to deal with during the school year.
Abeer does not know much about what is going on outside the neighborhoods of al-Joura and al-Qosour, answering a question about the prominent events in her life during the school year, saying "The people's main concern is providing their living costs, trying to keep away from other concerns that lie beyond these neighborhoods, satisfied with what has remained of their lives to complete."
In another place in the city of Deir ez-Zor, not so far from the sounds of ululate and bullets in celebration of success, the majority of the city's neighborhoods are yet stuck amidst rubble and destruction, empty of residence and in need of reform.
Civil activists from the governorate stress that the high school exams were chaotic and suffered cheating attempts; thus, they do not clearly express the real educational level of students.
Hazm Zghair, 43 years old, known as "Abu Abdullah" is a teacher in the city of Deir ez-Zor. He described the situation as tragic, except for a few students. "The teaching quality deteriorated a lot, and the majority of students depend on cheating means".
Without blaming a specific entity, the teacher believes that the current conditions help in providing a better education, while certain students tend to excel due to their personal skills and efforts, explaining that "demonstration tools are lacking, and there are massive numbers of students within classes, which sometimes reach 50 students in a single classroom," adding that the rampant insecurity has affected the teachers' authority at schools.
Nonetheless, "Abu Abdullah" observes this time of difficulties as a special opportunity to rebuild young people's hope and to enhance people's morale as to help them carry on their lives and construct their future a new after all that they have suffered under the scourge of war, hunger and poverty.
This time might be a chance "to build a better reality", as Izdihar al-Mohammad, 39 years old, says. She is a teacher and a mother of three, the older of whom is Mohammad, who passed the high school examinations. "Our fear is doubled, for it is a difficult period, through which the destiny of our children is decided," she says to Enab Baladi.
"The surrounding circumstances are all against us; there is no regular food or constant electricity. And that who lives here has to fight against the surrounding and has to swim in an opposite direction of a sweeping current of ignorance, poverty and cruel conditions," Izdihar says, explaining that "the students studied by candlelight and kerosene lamps […] They deserve some joy and appreciation".
The mother offers juice and sweets to her guests, she speaks to them; however, she is concerned for her children's fate. "My heart is throbbing in fear for the rest of my children, for nothing is fixed here."
Izdihar is all the time worried, scared that her son might be called to join the military fronts. But his success has given her a new hope and a temporary repose, hoping to send him to Damascus to study at the university.
Even though the Al-Furat University already exists in Deir ez-Zor, in addition to a few educational institutes, the majority of young students and their parents whom Enab Baladi has interviewed wish to leave the area to other cities or abroad, somewhere more stable and safer.
if you think the article contain wrong information or you have additional details Send Correction