Families From Suweida Warn Relatives Against Participating in Looting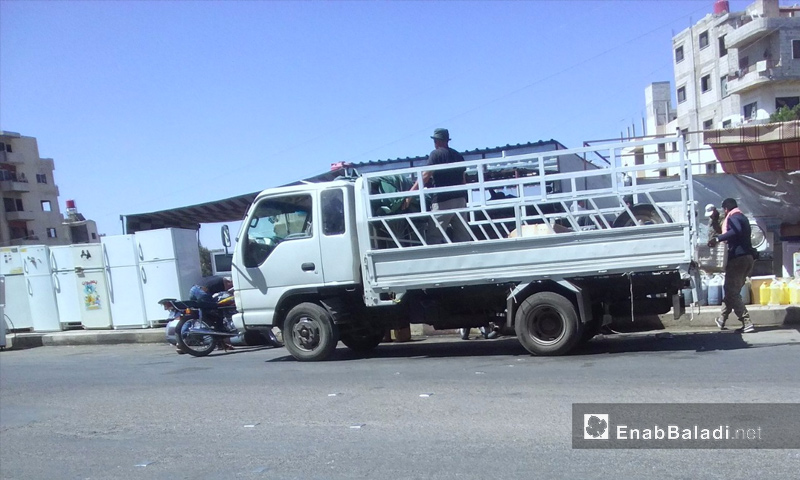 Families from Suweida city in southern Syria have warned relatives against involvement in looting in the area, saying that they would disown family members who participated in it.
The al-Jaghami family said in a statement released on 9 July that it was committed to rulings issued by local clerics regarding the issue of looting.
The statement also told family members not to use, trade, or promote stolen materials, saying that any person who did not abide by this principle would be disowned.
According to Enab Baladi's correspondent, the Hatem family also denounced in a statement on the same day all trading operations for stolen goods. The statement said that any individual who took part in this phenomenon in any way would no longer be considered as representing the family.
The Radwan family also condemned acts of theft and looting on 8 July, saying that the act was against the values of society. The Radwans too said that anyone participating in theft would be considered a stranger to the family, whose values had been passed on from generation to generation.
Enab Baladi's correspondent said that these families were considered the largest in Suweida, and have a long history of taking political and social stances.
The statements this week have come after a social media campaign by activists in the city aiming to boycott the buying of stolen goods. The campaign also aimed to combat the "looting" checkpoints where civilians and displaced people have been robbed of their money in Daraa Governorate.
A video circulating on Facebook last week showed a large amount of stolen items being transported by Syrian regime officers and soldiers to Suweida.
A sheikh from the Druze sect in Suweida issued a statement prohibiting any dealing of stolen goods – whether buying, selling, or otherwise trading – affirming that these practices were incompatible with religion. The statement was signed by other sheikhs, including Yusuf Jarboua and Hamoud al-Hanawi.
The Druze sheikh has asked state authorities not to allow road passage for stolen goods or the establishment of market areas for their sale.
The "Rijal al-Karama" organisation also prohibited in a previous statement the phenomenon of looting, and held political and security authorities completely responsible for its spread.
if you think the article contain wrong information or you have additional details Send Correction