Entire Family Killed in Quneitra Governorate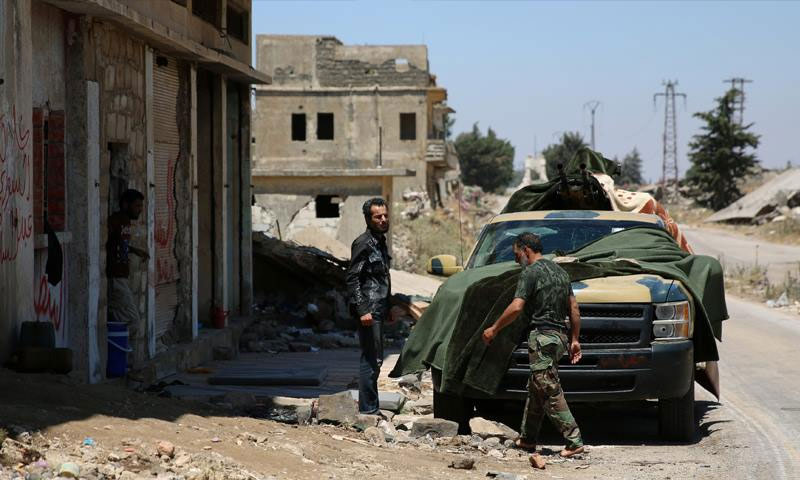 A Syrian regime airstrike on Tuesday 17 July killed an entire family in Quneitra Governorate in southern Syria.
According to Enab Baladi's correspondent in Daraa Governorate, a Syrian regime jet 
on Tuesday
 targeted a school building sheltering displaced persons in Ain al-Tana town in Quneitra. An entire family of ten were killed in the strike, including women and children.
The correspondent reported that those killed had been displaced from al-Harra town in Daraa Governorate.
The Syrian Observatory for Human Rights said that six civilians had been killed in the strike against Ain al-Tana, including three children. The Observatory said that several people had also been injured – including with serious injuries, suggesting that the death toll was likely to rise.
Military aircraft also launched strikes on 17 July against several other locations in Quneitra, which has generally been free of airstrikes over the past year.
The escalation in the area has come after Syrian regime forces took control of al-Harra town and its strategic hilltop area in Daraa in 17 July. This development followed the signing of a "reconciliation" agreement with opposition military and civilian officials in the town.
Assad's Forces are currently attempting to gain full control over the north-western part of Daraa Governorate adjacent to the administrative boundary with Quneitra.
Several opposition factions operate in Quneitra Governorate, including Tahrir al-Sham, Division 404, Salah al-Din Brigades, First Infantry Division, Quneitra Martyrs Brigade, al-Furqan Brigades, and Ahrar al-Sham.
The regime turned its attention to Quneitra after gaining control of a large part of Daraa Governorate.
"Free Syrian Army" factions in June formed a joint operations room to begin military operations in Daraa, prior to the regime gaining control of most of the area during its campaign.
According to what the "FSA" commander Asaad Aoud al-Raabi told Enab Baladi, opposition factions on 17 July repelled an attack by the regime against Musahara town in Quneitra, inflicting casualties among Assad's forces.
if you think the article contain wrong information or you have additional details Send Correction