Enab Baladi Publishes the Syrian Opposition's Conditions for Southern Syria's Reconciliation Deal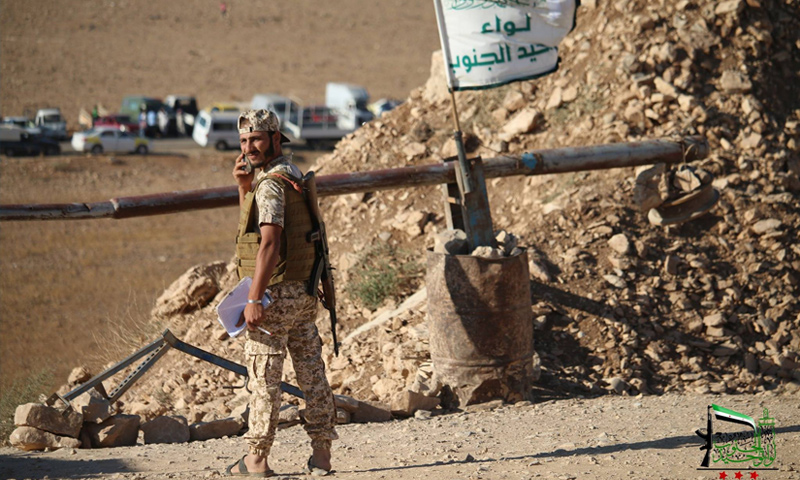 The opposition factions in Southern Syria are about to attend a new round of negotiations with the Russian side in the next few hours, following the session that ended yesterday, Tuesday, in the evening.
Sources, informed of the negotiations, has today, Wednesday June 4, said that yesterday's negotiation meeting has led to no results; the team, however, was given additional 24 hours to make a decision at the level of Southern Syria as to complete the negotiation team.
The sources also told Enab Baladi that the negotiation process is decided to take place today at 4P.M.
Below, Enab Baladi quotes the terms provided by the Syrian opposition as conditions to approve the reconciliation deal in Southern Syria; the following terms are suggested under the "Road Map" title:
An immediate cease fire in Southern Syria from both sides.
Undertaking to ensure that Assad and security forces do not enter the areas.
The return of Assad's forces to areas where they were before the start of the attack on the south.
Beginning with the gradual delivery of heavy weapons, in conjunction with the return of the people to villages and towns in the south.
The return of civil state institutions to work in the south, under the administration of the area's people and the return of all employees to their posts with raising the Syrian flag.
Opening the various roads between the villages and towns of the south with Damascus and As-Suwayda for civil and economic movement.
The formation of a central force backed by medium arms to support the local force in the south.
Forming a local force in each area to maintain security.
The central force ensures the protection of the Nasib crossing with the possibility of providing all that is need on the part of the factions to secure the road from Nasib crossing to Khirbet Ghazaleh.
The crossing is run by a staff of civilians under the security and protection of the Russian police.
The military road extending from the Nasib crossing to As-Suwayda is to be controlled by Assad's forces.
Accelerating the implementation of "Astana" Agreement's terms regarding the file of detainees and abductees to release them and begin the exchange of the bodies of the killed from both sides.
The legalization of dissidents' status to ensure the safety and non-prosecution of any of them (whatever their status is).
The distribution of reconciliation action points geographically, as needed within an agreed mechanism.
The agreement is to be considered a roadmap and an appropriate solution to the current situation until a comprehensive solution at the level of Syria is realized.
The agreement covers Southern Syria on the whole (Daraa and Quneitra)
The deal's guarantor is the Russian State.
if you think the article contain wrong information or you have additional details Send Correction