Deal in Quneitra Governorate Brings Assad's Forces Back to Their Positions before 2011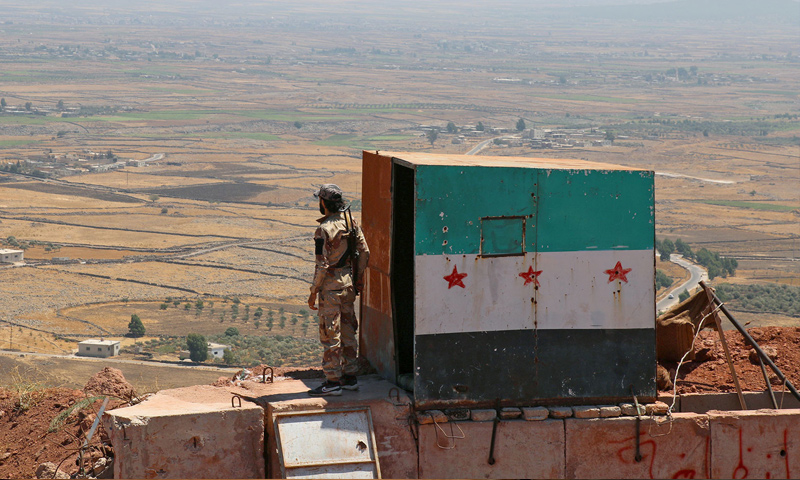 Assad's forces and the opposition factions have sealed a deal concerning the governorate of Quneitra, Southern Syria, following the former model of the agreements conducted in the south, according to the official news agency "SANA".
The Agency has reported today (Thursday), July 19, that the deal provides for the departure of the faction's troops who refused to reconcile to Idlib governorate, Northern Syria, and the legalization of the status of those who wish to stay in the area.
The deal also provides for Assad's forces' return to the points where they had positions prior to 2011, the disengagement area with Israel, under the agreement signed in 1974.
Enab Baladi's reporter in Southern Syria, stressed that the meeting took place in the town of Sa'sa' and that it has the same terms proposed by the previous deals, signed in the western countryside of Daraa concerning the legalization of the dissidents' status and the departure of the disapproving troops to Northern Syria.
The Syrian regime has threatened the factions that it will enter the area whether peacefully or militarily, said the reporter.
The Syrian and Russian air forces have, last Monday, launched an attack and targeted, with raids, a number of areas in Quneitra governorate; the offensive is the first of its kind in a year.
Eyes were all on Quneitra governorate, following Assad's forces control over large areas in Daraa governorate and its western and eastern rural parts.
A number of opposition factions are active in the countryside of Quneitra, including "Hay'at Tahrir al-Sham", "Brigade 404"," Al-Nasser Salah al-Deen Brigades", the "First Infantry Brigade", "Martyrs of Quneitra Brigade", "Alwiya al-Furqan" and "Harakat Ahrar al-Sham al-Islamiyya".
Assad's forces success at capturing Quneitra was introduced by the green light granted by Israel, which repeatedly stated through its officials, that it does not object to Assad's return to the borders in return for the expulsion of Iranian forces from Syria.
The disengagement agreement between the Syrian regime and Israel was signed on May 31, 1974, following the October war, in Geneva, attended by the United nations, America and the Soviet Union.
Back then, the agreement provided for the Israeli forces' withdrawal from the lands they occupied during the October War, the exchange of war prisoners, ceasefire and abstinence from conducting military operations by land, sea and air.
On July 10, the Israeli Defense Minister Avigdor Lieberman has warned Assad's forces from approaching the buffer zone at the borders, according to the Israeli "Yedioth Ahronoth" newspaper.
if you think the article contain wrong information or you have additional details Send Correction