Assad's Forces Expand in Daraa al-Balad's Surrounding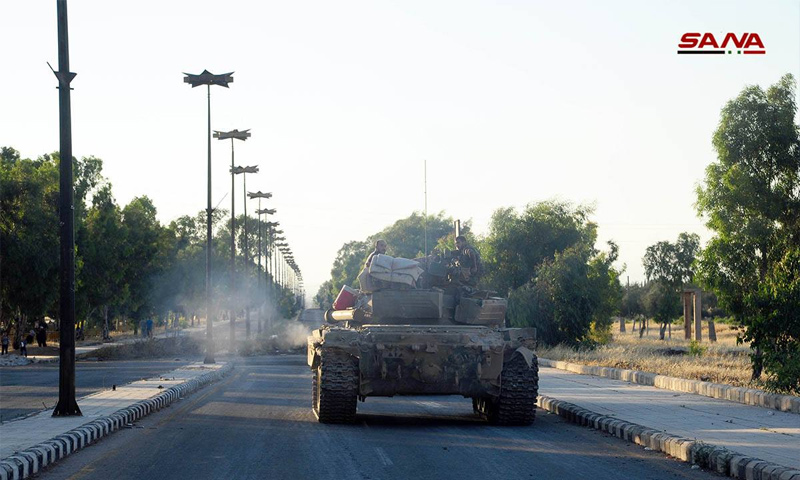 Assad's forces and allied militias have expanded in the vicinity of Daraa al-Balad, days after they were completely in control of the Air Defense Battalion and the town of Om elmiathin.
The Syrian regime's official media reported today (Tuesday), July 10, that Assad's forces took control of the area of Gharaz, south-east of the city of Daraa, in addition to the al-Jumruk al-Qadim and the Haganah Battalion, south-west of the city.
They added that the current progress comes after the control of the entire border line with Jordan, which extends from the south of Tisiyah, south-eastern countryside of Daraa, passing through Nassib border crossing and the Air Defense Hill to the village of Zayzun, the north-eastern countryside of Daraa.
In an interview with the spokesman of the "al-Bunyan al-Marsoos" Operations Room, known as "Abu Shaimaa", he said that Assad's forces did not control the area of al-Jumruk al-Qadim, in the sense of making a position of it, but they returned to their positions in exchange for the Jordanian point.
He added, telling Enab Baladi, that Assad's forces have not yet gained access to Gharaz, but they are expected to enter the area later on.
These developments followed the agreement signed by the opposition factions with the Russian side, which is decided to be implemented in three stages, including the admission of Assad's forces to the vicinity of the Yarmouk Basin.
In the first phase, Assad's forces entered Nassib border crossing with Jordan, while they continued their progress to Kharab al-Shahem, Zayzun and Tell Shihab as a second stage.
The official statements of the opposition factions were absent after the signing of the agreement, amidst talks about the exit of most of the opposition figures who negotiated with the Russians to Jordan with their families.
Among the figures are the head of the Political Office of the "al-Thawra Army" faction Bashar al-Zu'bi, the leader of " Osod al-Sunna " faction Abu Omar al-Zaghlul, and the leader of "Falojat Houran" Anas al-Zayd and leader Zaid al-Hariri.
The first item of the agreement provides for a comprehensive ceasefire in the governorate of Daraa and the entry of Assad's forces to Nassib border crossing.
It also provided for handing over the faction's heavy and light weapons gradually, while the entire governorate of Daraa is under the administration of the Syrian regime, with the participation of some of the figures whose status has been legalized.
if you think the article contain wrong information or you have additional details Send Correction