A Source: Idlib's Factions Are Preparing for an Offensive against Kafriya and Al-Fu'ah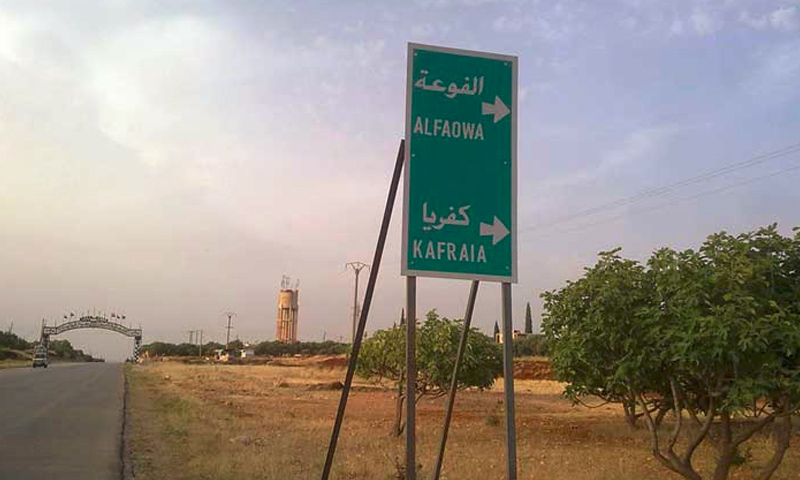 The military factions, active in Idlib governorate, are planning to undertake an attack on the Assad's forces in the two villages of Kafriya and al-Fu'ah.
An informed military source has told Enab Baladi today (Saturday), July 14, that the operation will be led by "Hay'at Tahrir al-Sham" alongside the factions functioning in the two villages vicinity, including the "Syrian Liberation Front".
The source, who wishes to remain anonymous, said that the battle is expected to impose pressure on the Iranian side, as to expel the rest of its forces from Kafriya and al-Fu'ah.
Enab Baladi's reporter in Idlib said that the reconnaissance aircraft stuck to the governorate's airspace for the two past days.
The Syrian regime's air forces have in the past a few days intensified their attacks on Idlib governorate, with a specific focus on the western strip from Jisr al-Shughur to al-Ghab Plain area, rural Hama.
The current developments correspond to security operations declared by the "Islamic State" lately, which targeted a number of military leaders in the "Free Army" and "Tahrir al-Sham".
The two villages of Kafriya and al-Fu'ah are located in the northern countryside of Idlib, seven kilometers away from the city of Idlib, and linked with a two kilometers road.
The two villages, for three years, managed to preserve their military borders within Idlib, despite the massive arsenal owned by the opposition factions, which are positioned in their surroundings.
In the past three years, accusations were directed against "Tahrir al-Sham" for handicapping any sort of military action attempting to control the two villages, under an agreement signed with the Iranian side, dubbed the "Five Cities" deal.
The factions, who have joined former the "Army of Conquest" (formed of the opposition factions that controlled Idlib), have tried to capture the two towns, but the attempts failed, especially the one conducted in the period from July to September 2015. Back then, the factions sought to seize Swaghia, Deir al-Zaghab and al-Fu'ah and managed to capture a limited area towards al-Fu'ah.
Following this period, the attempts were repeated, backed by rocket launchers and Grad missiles shelling which persisted to November 2015, the area then was included in a deal signed by the "Army of Conquest" and Assad's forces under an Iranian-Qatari auspice. The deal also covered the al-Zabadani, Madaya and Baqin.
if you think the article contain wrong information or you have additional details Send Correction