A Self-Teaching Book in Northern Syria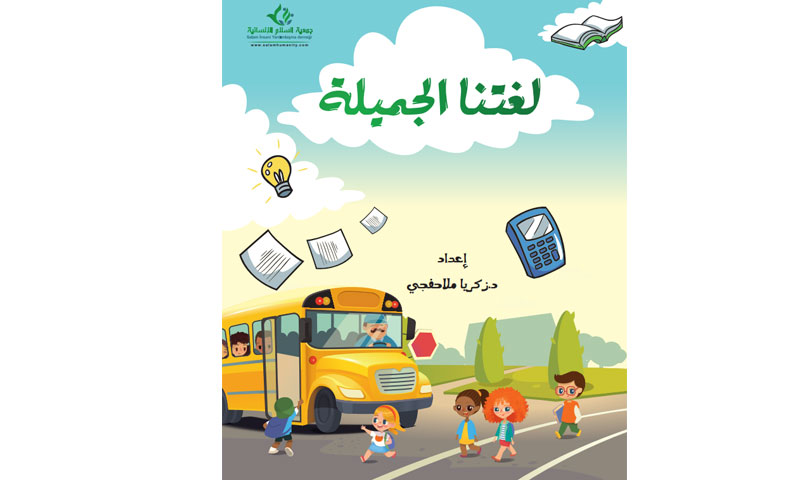 Diverse projects have been implemented as to bridge the gap created by two million Syrian children's dropout of schools, the majority of which warn against a danger threatening an entire generation; the projects are accompanied with similarly varied institutional projects based on the construction of schools and the renovation of destroyed ones in different Syrian cities and rural areas.
However, the reality inside the camps is largely different from the reality outside; the situation is almost beyond control, if not repair, due to the constantly deteriorating humanitarian conditions, lack of care and interest, which usually focus on offering the displaced people and escapees in-kind aids.
Facing challenges as such, the Syrian teacher Zakaria Mellahfji choose to act and issued an independent print of a children's "self-taught" book to help them learn reading and writing.
Zakaria, a political activist as well, told Enab Balaadi that the book's first edition, a thousand copies, was distributed to orphanages and camps in Northern Syria early in July. The second edition was issued and distributed two days later, another thousand copies. He said that additional copies will follow as to cover three main areas, Azaz, the northern countryside of Aleppo, Bab al-Hawa camps and the rural parts of Idlib governorate.
The book is supervised by Rana Jabi, a teacher specialized in children's teaching, who cooperated with teacher Mellahfji to design the book according to practical standard that help the teachers in delivering the information and the students in understanding it. The book is provided with directives that enable a mother who can read and write to transfer the information in the book easily to her children according to Mellahfji.
The book, which Enab Baladi managed to have a copy of, teaches reading and writing the letters in the beginning, then children are taught to write complete sentences. If children succeeded to go through the book carefully, they become capable of reading and writing, which is the project's main goal as the teacher has said.
He added that the target group is mainly orphans in Northern Syria, displaced and escapee children who live in camps that are far from schools, pointing out that the books were distributed on volunteer teachers who work in the camps and the mothers and fathers of orphan children as well.
Mellahfji said that the project is self-funded, and no entity or institution has taken the responsibility for printing or distributing the book.
if you think the article contain wrong information or you have additional details Send Correction