US Strike Hits Syrian Regime Position Near Al-Tanf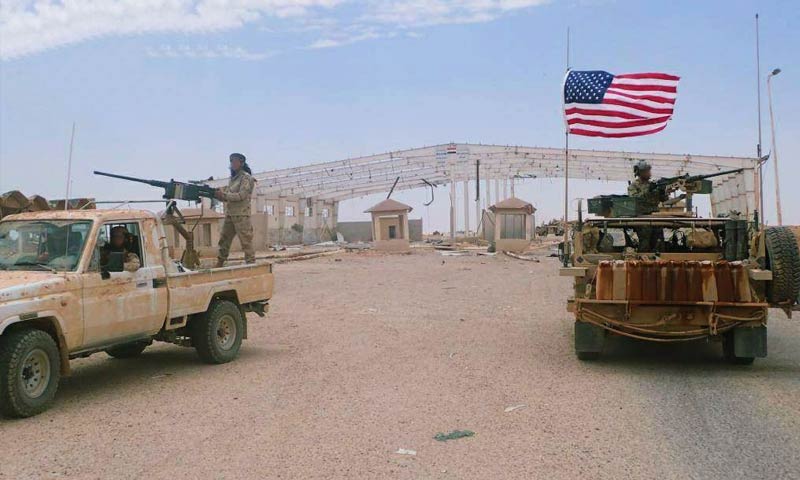 An artillery strike by the US-led international coalition hit a site belonging to Syrian regime forces in the al-Alyaniya area in the eastern badiya region, near the US military base at al-Tanf.
The commander of the FSA-affiliated "Jaysh Maghawir al-Thawra" faction, Muhannad al-Tala, said on Thursday 21 June that the coalition had struck the regime position in the al-Alyaniya area after pro-regime forces had fired toward the al-Tanf base.
Al-Tala added to Enab Baladi that the position was located at the border of the "55" area, which is controlled by the FSA and under the administration of the international coalition.
The commander said that the site was a military checkpoint able to accommodate 20-25,000 soldiers, in addition to military vehicles. He said that the losses from the strike had not been specifically determined. At this time, the international coalition had not commented on the incident.
These developments come just days after US strikes killed dozens of Assad's troops and Iraqi militiamen near al-Bukamal city after targeting one of their outposts.
Several Iraqi and other foreign militias operate alongside Assad's forces in Syria's eastern badiya region. The most prominent of these are the Iraqi Hezbollah faction and Iran's IRGC.
Recent strikes are occurring at a time of tension between the US and Russia over the American presence in the al-Tanf area.
In a 2017 statement the Russian Defence Ministry criticised the al-Tanf base of playing a devious role, and said that the area had become a 100-km long "black hole" in eastern Syria.
The statement added that al-Tanf had been "training terrorists" to fight within the ranks of ISIS instead of the FSA. Also included in the statement were other references to US support for terrorist groups.
According to military sources contacted by Enab Baladi, the US considers the al-Tanf base as a means for limiting Iranian influence in the area. It also obstructs a land bridge leading to Damascus, which Moscow believes the US is using as leverage to gain influence over the situation in Syria.
The al-Tanf base is located near the international border crossing of the same name between Iraq, Jordan, and Syria.
US forces are concentrated in the base, and are assisting opposition factions present in the "55" area inside Syrian territory. The most prominent of the supported factions is the "al-Shaheed Ahmad Abdu" brigade and "Jaysh Maghawir al-Thawra", which are based in the area of the Rukban displaced persons' camp.
if you think the article contain wrong information or you have additional details Send Correction