"Tomouh" Center Seeks to Empower Syrian Women in Daraa Governorate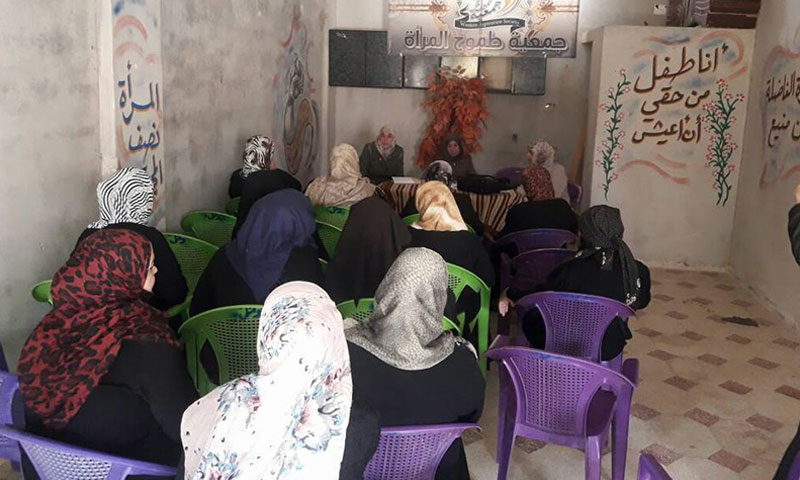 Since the beginning of 2018, Tomouh Center (Ambition) has organized a number of awareness and training courses in the town of Tell Shihab, Daraa, targeting its women under efforts to develop their skills, empower them and activate their social role.

 
Healthcare courses and others related to economic projects headed the center's schedule, affiliated to the "Southern Women Council" in Daraa governorate, directing its services, as a priority, to the vulnerable segment of women, including widows, detainees' wives and breadwinners, as Rula Masalmeh, the Director of the Center, has told Enab Baladi.
Al-Masalmeh added that the Center aims to provide training courses that help women find jobs or start small home-based projects to make a living, pointing out that the Center's resources are limited, but its free of charge services have been persistent since January 2018.
The number of widows in Syria is on the rise due to many deaths which war has led to. The situation positioned them face to face with several challenges, on top of which is the urgent need to provide for their children and families, a thing that in turn made them liable to exploitation by the labor market, which utilizes their efforts for the minimum wages.
In addition to focusing on women, "Tomouh" Center looks forward to making benefits at a large scale through supporting the families of detainees, displaced people and refugees, as well as the families under the poverty line, in addition to allocating training courses to the war-injured people and persons with disabilities, which guarantees their integration into society and the labor market.
For his part, Mahmoud al-Sa'di, the public relations official in "Tomouh," said that the Center has assigned a major part of its energy to conduct awareness seminars about varied subjects, the most important of which are violence against women and children, sexual harassment and addiction.
He told Enab Baladi that the center has managed to secure jobs to the women trainees, for currently it includes about 60 women trainers and trainees.
"The goal is to help a class that has been marginalized by the Syrian society, consisting mostly of women, to enable it revive and prove itself and enter the labor market, a thing that needs sharpening their skills and developing their talents," he added.
About the difficulties facing the Center, al-Sa'di said that they are mainly manifested in the weak funding, since expanding the activities and providing more training requires equipment and additional expenses, especially that the Center performs under the "Southern Women Council" and no other entity is financing it so far.
The role of the Syrian women in Daraa is relatively effective if compared to women in other areas out of the Syrian regime's control, for women in Daraa have participated along men in services and volunteer work and have been powerfully present in hospitals, the Civil Defence centers and the different civil associations.
if you think the article contain wrong information or you have additional details Send Correction