"Tahrir al-Sham" Raids "ISIS" Cells' Positions in Idlib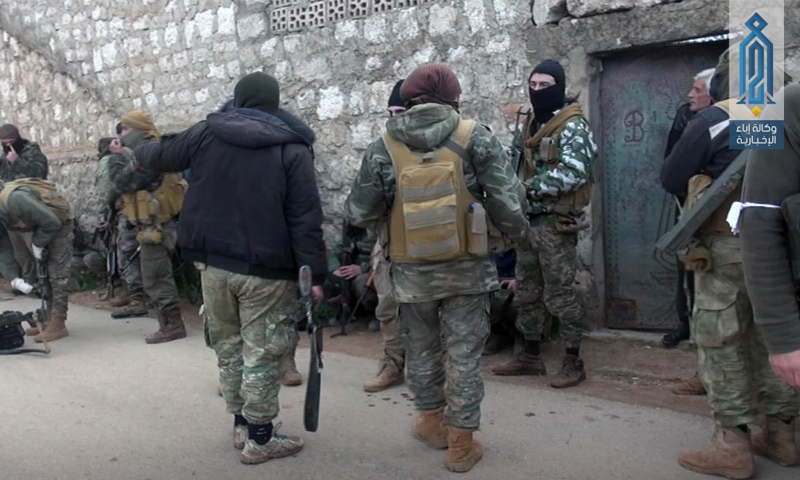 "Hay'at Tahrir al-Sham" (HTS) has announced controlling all the positions in which "ISIS" affiliated cells were fortifying in the city of Sarmin, the eastern countryside of Idlib.
"Ebaa" Agency, "Tahrir al-Sham's" official outlet, reported today, on Saturday, June 30, that HTS has captured all the "Islamic State" (ISIS) positions in the city of Sarmin, rural Idlib, and that it is currently canvassing the last of its strongholds in the city.
Enab Baladi's reporter in rural Idlib said that the confrontations are going on to the moment, in correspondence to which "Tahrir al-Sham" has cut off all the major roads that connect the city of Sarmin with the rest of the areas.
The roads are Saraqib – al-Nayrab, Idlib-Sraqib and Idlib- Qminas, while the rest of the roads have underwent an intensive investigation at the checkpoints.
Two days ago, "Tahrir al-Sham" sealed a deal with civil entities in Sarmin, as to neutralize the city from the confrontations within the security operation it started on Thursday, June 28.
The deal provided for the formation of an executive force of both "Tahrir al-Sham" and the city's people to supervise raiding the positions, suspected of belonging to "ISIS" cells, on the condition that the security campaign shall end in the city within a limited time, after which the city's management is completely allocated to its people.
According to the reporter, a number of civilians were injured due to yesterday's, Friday, confrontations in the city and the "Civil Defense" teams were hours late in evacuating them.
The "Sham Legion" participated with "Tahrir al-sham" to conduct the security operation through which the latter targets "ISIS" cells; this is the first attempt at cooperation since Idlib governorate started suffering the rampant insecurity.
Anonymous persons have assassinated five people in the governorate on June 10, following the same approach that "ISIS" uses to execute captives and detainees.
Back then, photos of three slaughtered people were posted on social media, who are said to belong to "Tahrir al-Sham." The photos were attributed to the "Islamic State" for the photos' captions were titled under "Wilayat Idlib" (Province).
"Ebaa" Agency has posted images of the place where the troops were slaughtered tow days ago, saying that the killing incident which took place in the city of Sarmin was implemented by "ISIS" cells.
"Jund al-Aqsa" faction has lately made the city of Sarmin and the adjacent town of al-Nayrab a place for its headquarters, in addition to its spread in the cities and towns in the southern countryside and Jabal Zawiya.
The faction has been accused of being the entity behind the assassinations that targeted dozens of troops and leaders of "Tahrir al-Sham" and other military factions.
if you think the article contain wrong information or you have additional details Send Correction