"SDF" Controls Tell Safouk Crossing and Meets the Iraqi "Popular Mobilization Forces"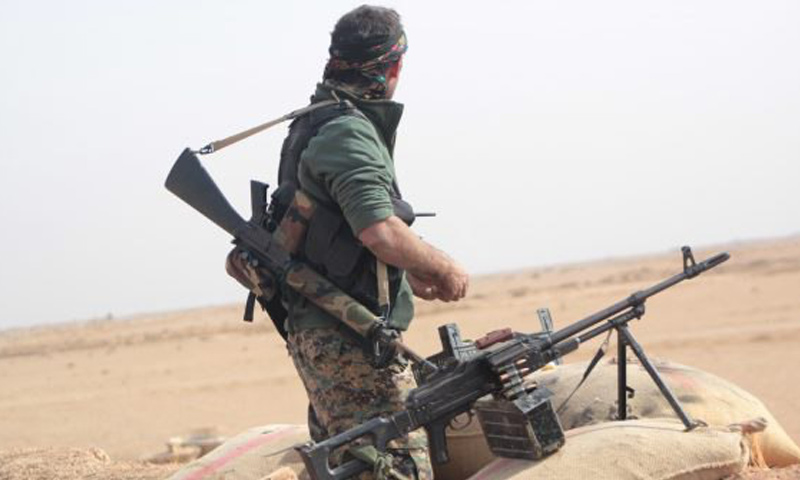 The fighters of the "Syrian Democratic Forces" (SDF) have yesterday, on Friday, June 22, captured the Tell Safouk crossing, located 55 kilometers in the southeastern part of the city of al-Hasakah at the Iraqi borders within the frame of the "al-Jazeera Storm" campaign.
The Kurdish Units (YPG), the main component of "SDF," have published a video toady, Saturday June 23, showing the meeting that joined "SDF's" fighters with others carrying the Iraqi flag. In sync, Iraqi activists have published pictures of what they called the moment of "SDF's" meeting with forces of "Brigade 29", an affiliate of the Iraqi "Popular Mobilization Forces," which have been positioned at the Iraqi side of the borders a year ago.
Akram Saleh, a Kurdish media personality, told Enab Baladi that the "Syrian Democratic Forces" managed to seize the Tell Safouk crossing, hours after they have controlled the town of al-Thibeh. The forces have advanced from the town of Dashīshah, in cooperation with the Iraqi Army and lead by the international coalition, which in turn offered artillery coverage to the moment where the "SDF" achieved to progress and controlled the crossing.
The "Islamic State" (ISIS) has exploited the border outlet between Syria and Iraq to form one of the most prominent lines of supply and weaponry support between the two sides.
The outlet has also turned into an icon for "ISIS" and its loyalists, for it is the place where Omar al-Shaighani, a major ISIS leader, and Adanan al-Baghdadi, ISIS' spokesperson back then, appeared while removing the berm on June 24, 2014, in a release called "Breaking the Barriers" that corresponded to the declaration of the "al-Khilafah" (Caliphate) under the rule of "Abu Bakr al-Baghdadi."
"SDF" is, currently, undertaking demining activities in the town of Dashīshah after they controlled it on June 17 and published a video of exploding mines while being removed; the mines were planted by "ISIS" following its control over the area.
if you think the article contain wrong information or you have additional details Send Correction